InvenTeam Teacher Phil Arnold Named 2021 Teacher of the Year by The Washington Post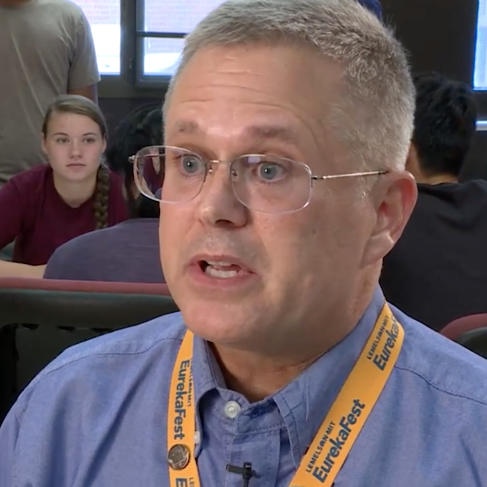 2018 Lemelson-MIT InvenTeam educator Phil Arnold from Frederick County Career and Technology Center in Maryland was named The Washington Post's 2021 Teacher of the Year.
This Teacher Appreciation Day is extra special for Phil Arnold, an engineering and architecture teacher at Frederick County Career and Technology Center (CATC) in Frederick, Maryland. That's because Arnold was just named 2021 Teacher of the Year by The Washington Post.
After many years of working in information technology, Arnold came to teaching later in life as a second career, almost by accident. He was on his last day of a contract in IT support at the Frederick County Public Schools' Career and Technology Center when a school secretary was in a jam finding a substitute for a teacher on maternity leave and asked Arnold to fill in. Reluctant to stand in front of a room full of teens at first, Arnold soon agreed to help.
Eleven years later and Arnold says he has "absolutely loved every minute" of his teaching experience. Part of that experience includes winning two Lemelson-MIT (LMIT) Excite awards that allowed him to travel to MIT for LMIT's EurekaFest and attend professional development workshops on invention education. Arnold took the time, outside of his normal teaching duties, to gain a better understanding of invention education so that he could begin the inventing process with his students. 
Arnold's hard work was rewarded in 2017 when he and his students received a Lemelson-MIT InvenTeam grant to build an invention. In June of 2018 he returned to MIT for EurekaFest but this time with his students, who presented their invention -- a system to remediate well water which was to be used by a school in Ethiopia. Later, the InvenTeam actually traveled to Ethiopia to install the system. This experience allowed the students to see first-hand how their inventive work was able to make an impact in the world.
Arnold says it's important for students to be able to choose their own problems to solve. "When you teach students how to build something, you engage their hands and minds. If you let them choose the project, you engage their hearts," says Arnold. 
At 60, Arnold continues to teach and inspire his students to put the skills they gain in the classroom into action in the real world. Thanks to Arnold, the students at Frederick County Career and Technology Center are already making positive changes in society. Congrats to Phil Arnold on being named 2021 Teacher of the Year by The Washington Post, a much deserved title. LMIT thanks Arnold for his dedication to inspiring students to invent!
Read more about Phil in this Lemelson-MIT case study.