Your InvenTeam Application Can Be the Start of Something Big!
The InvenTeam initiative, created by the Lemelson-MIT Program, offers an unparalleled opportunity for high school students to cultivate their creativity and experience invention.
InvenTeams are teams of high school students, educators, and mentors which receive grants of up to $7,500 to invent technological solutions to real-world problems. Each InvenTeam chooses its own problem to solve.
The application process occurs in two stages. Educators and their teams may apply for the InvenTeams grant. Eight schools will be awarded an InvenTeam grant.
Have Questions?
Join our Virtual Office Hours:
Tuesdays, Aug. 2-30 at 7:00 PM ET
(If you can't make it a session, view the recording by clicking below.)
August 16:  Competitive Review (What's on the market & patent search)

August 23:   Engaging Your Community

August 30:  Final Application Submission
The final application will be due September 6, 2022, at 5:00 PM EDT. 
For more information, download the InvenTeams Grant Application Guide here. 
To contact us, please send an email to: inventeams@mit.edu.
Why Start an InvenTeam?
InvenTeams integrate STEM through the process of inventing
InvenTeam students rely on inquiry and hands-on problem solving as they integrate lessons from science, technology, engineering, and math (STEM) to develop invention prototypes. Interactive, self-directed learning coupled with STEM curricula are essential for experiencing invention.
Students learn to work in teams, while collaborating with intended users of their inventions. They partner with organizations in their communities to enrich their experiences. Most of all, students learn to move forward through challenges and celebrate "Eureka!" moments.
After the InvenTeam experience, inventive cultures often continue to prosper at schools through further development of InvenTeam prototypes or the pursuit of new invention projects. To date, 12 InvenTeams have patents for their InvenTeam projects, although, patents are not a requirement. 
InvenTeams make it Happen!
---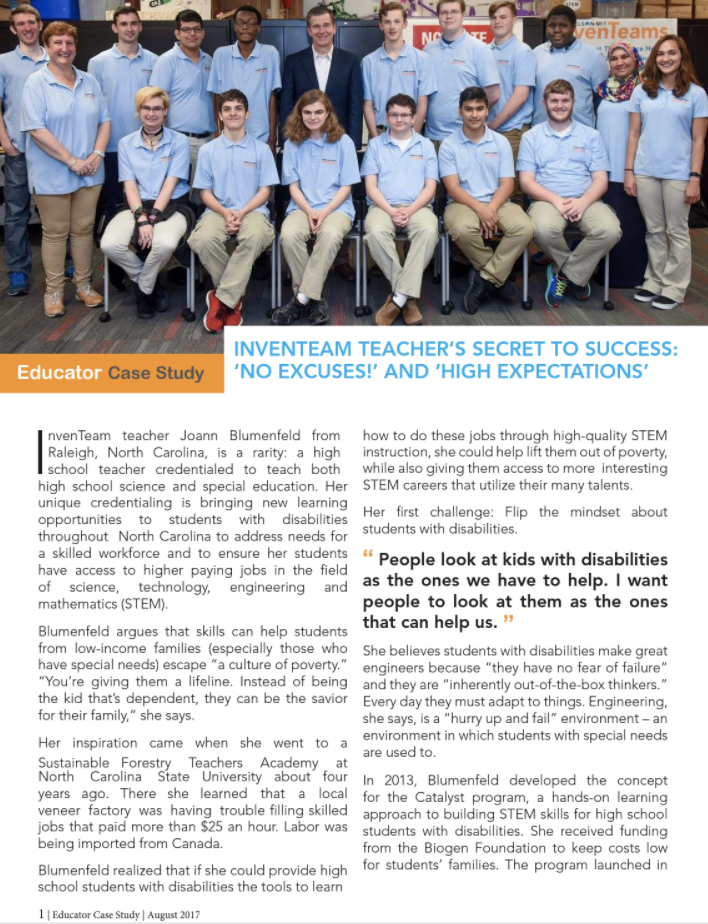 InvenTeam teacher Joann Blumenfeld from Raleigh, North Carolina,  was recently named by TIME magazine as one of the 10 most "innovative" teachers in the country! To learn more about her InvenTeam journey click here. 
---
---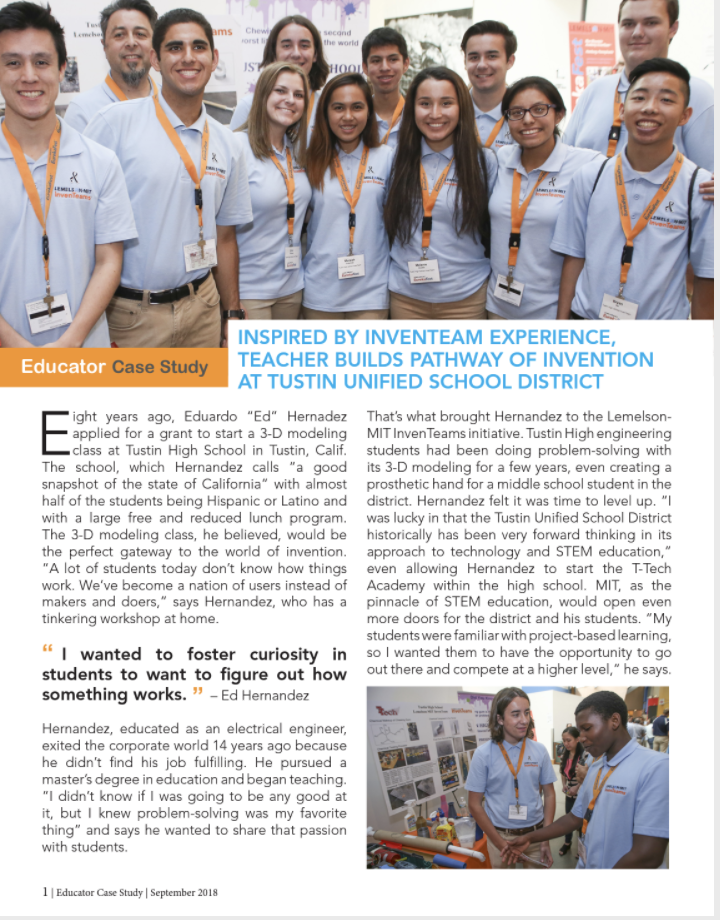 Ed Hernandez was so motivated by his InvenTeam he developed a "Pathway to Invention" in his school district. Click here to read the case study. 
---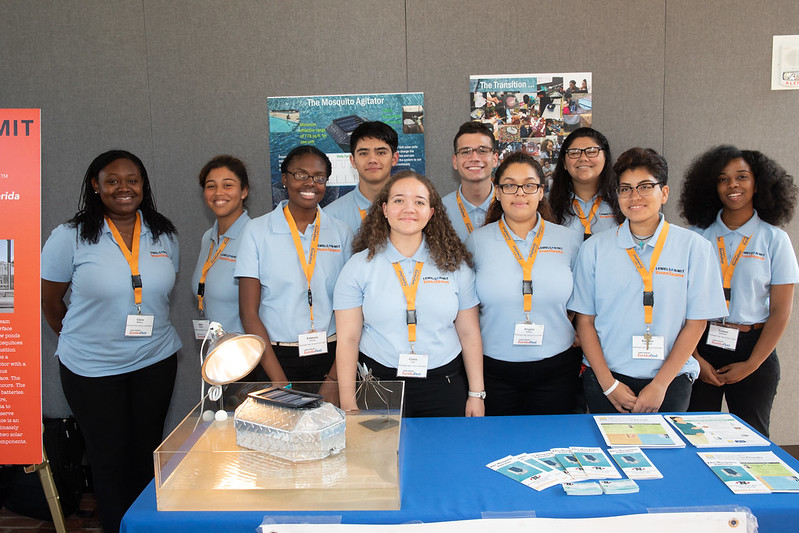 Many InvenTeams become Patented Inventors!
Currently, 14 InvenTeams have been awarded patents for their invention projects. This is not a requirement for the grant, but an example of how the InvenTeam experience leaves a lasting impression on the students, teachers and community.
Even Oprah is an InvenTeam fan!
Testimonial
"It's no longer just crazy Mr. Schwartz in the shop trying to invent something. The grant we received provided acknowledgment to the school, district, and even county that what we were doing was worthwhile."
- Jonathan Schwartz, Colfax High School (CA) InvenTeam teacher in 2012 and 2020
LMIT's Executive Director Stephanie Couch on why invention ed is what good education should be all about
InvenTeam News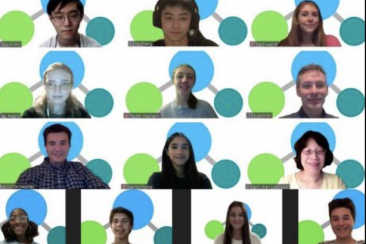 InvenTeams
The LMIT InvenTeam from Ridgewood High School, Ridgewood, New Jersey, has published the article, Invention as a Complement to High School Chemistry in the Journal of Chemical...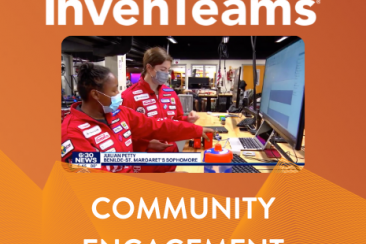 InvenTeams
The latest InvenTeams' community interactions documented in news interviews, blog entries, video updates, and social media mentions.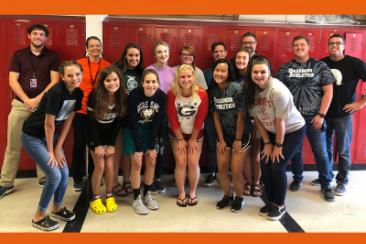 InvenTeams
The 2019-2020 InvenTeam from Greenon, Ohio was awarded a patent on January 25, 2022 for their system to prevent human-made debris in the sewer system from entering local...
Your Support Counts
Your support goes a long way: Sponsor an InvenTeam, Send a group to EurekaFest on the MIT campus, Provide professional development to educators, Support a local invention convention for K-12 learners, Introduce Invention Education to a community college.
We have so many Pathways to Invention Education for you to choose!