InvenTeam Teacher Alumni Spotlight Catching up with Ms. Rachel Thibault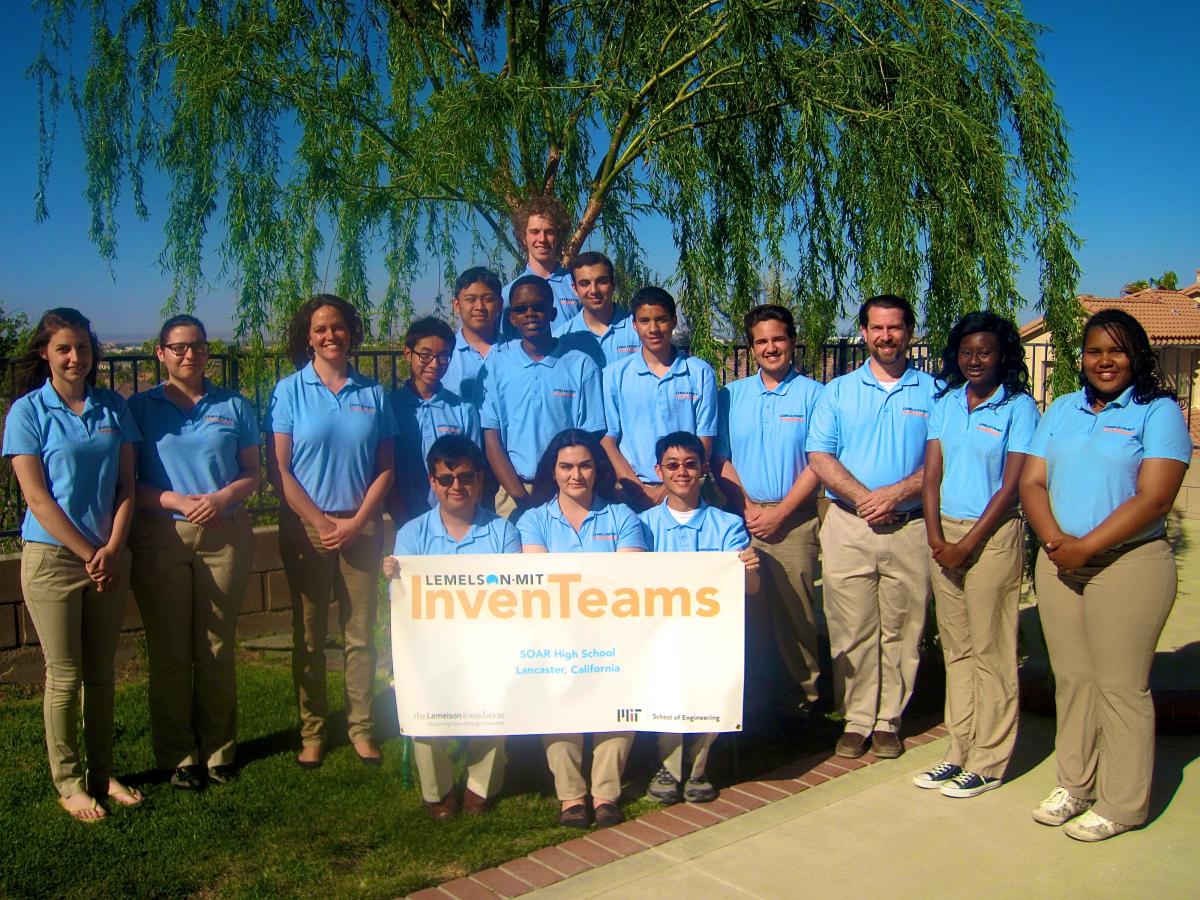 Ms. Thibault team of students developed ëris, a blood alcohol content detection wristband. She traveled with Jonathan Hernandez and team member, Fanto Sinayoko to accompany the team at the 2015 White House Science Fair. Lemelson-MIT recently caught up with Thibault to find out what her team did after the InvenTeam and to reflect back on her InvenTeam teaching experience.
Q.  Why did you apply for an InvenTeam grant?
A handful of our creative and driven students got together during a lunch break one day and decided to submit an application for the Lemelson-MIT InvenTeams grant. As a last minute thought, they asked me to be their advisor for the team. It was not until we heard back from the Lemelson-MIT Program to learn that we were one of the teams chosen as an Excite Award recipient to be trained at EurekaFest that I actually saw what the students' invention idea was! I was the lucky one that got chosen to help lead the students.
Q.  What was your experience as an educator on the team?
My experience as an InvenTeam educator was the most gratifying and challenging experience of my 16-year teaching career. I have never been more proud of a group of students and their hard work simply because of the dedication, commitment and perseverance required to make an invention idea come to life. Our team maximized our individual strengths and weaknesses, and stuck together from start to finish. To say that we never quit on our goals and we gave our very best effort is incredibly satisfying.
Q.  What were the challenges? What were the successes?
One of the largest challenges we faced was timing. Since we are an Early College High School our students juggle both high school and college classes. Many of our students are heavily involved in multiple clubs and extra-curricular activities, thus scheduling meetings and good chunks of time to work was difficult. Though not ideal, we ended up having early morning meetings before school at 6:30 a.m. or 7 a.m. and Sunday afternoon meetings at my home. Those were the only available chunks of time where we could get our whole, large team together. The other major challenge was we did not know what we were getting into with regards to time. For example, knowing what we know now about how fast the school year goes to bring an invention idea to life, we've already started fundraising efforts and timeline planning in preparation for next school year's work. In considering successes and looking at the process, I am very proud of the fact that our whole team stuck together and that each pair of hands made some important impact on the realization of ëris. In considering the success of the product, I am incredibly proud that we were able to bring 14 working prototypes to EurekaFest, that we were able to achieve our goal of acquiring an U.S. Patent, and that we were granted the unbelievable honor of presenting ëris at the White House Science Fair.
Q. What was your experience like at EurekaFest when the team came to showcase their prototype?
EurekaFest was a BLAST! It was very rewarding to watch the kids thrive at displaying and promoting their year's work. It was also gratifying to be able to stand back and just watch them represent our school, our community, and the inestimable number of hours they all put-in to make our idea become a reality. By the time we presented our prototypes (having presented at numerous community and fundraising functions throughout the school year), our kids were comfortable speaking in front of crowds and were proud to share their accomplishments in inventing. EurekaFest was an opportunity for our students to celebrate our team, get to know other students from around the country whom were creative and hard working just like our kids, and for me to soak-up and reflect on an incredible job well done. 
Q. What did you do after the team finished their prototype?
We've continued the InvenTeam at SOAR High School and are now in our 3rd generation of recruited kids. This fact brings me great delight, to know that our 1st generation kids impacted our school culture so much by leaving a legacy of teamwork, creativity and determination. We've entered a few other competitions around the country with successive ideas, and are eager to bring our two latest ideas to life. We still have to meet weekly between 6:30-7 a.m. in order to have time together as a team, and hope that as invention season begins, we will start meeting on the weekends too. Our feeder junior high has started a Junior Varsity (JV) InvenTeams program, and it has been fun to be a part of the collaboration between the high school and junior high. 
Q. What advice would you give to an educator who is adding "invention" to their curriculum or after school learning enrichment?
The biggest nuggets of advice I would offer an educator undertaking the invention adventure for the first time are:
Get to know the kids, their strengths and their passions. This will help you lead them towards their unique contributions to the invention process.
Have high expectations, but reasonable flexibility. The invention process is not linear. It is more like Toad's Wild Ride.
Stay organized, encourage accountability and push the students to make this THEIRS. When it becomes theirs, then they will regulate and inspire each other. In other words, you lead them to become leaders. If you love working with kids, YOU CAN DO IT!