InvenTeam Alumni Spotlight: Catching up with Corine Peifer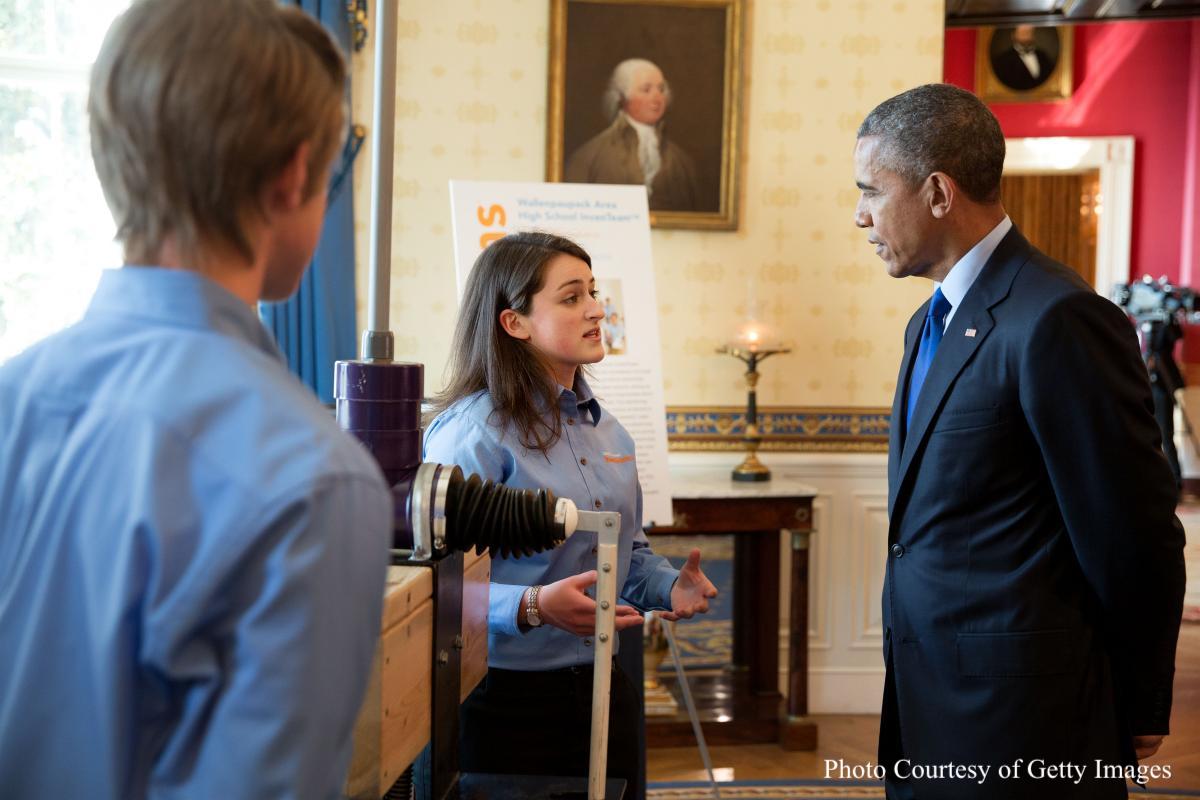 Peifer and team member, Kristian Sonsteby, represented their InvenTeam at the 2015 White House Science Fair, where they presented and showcased their invention to President Obama. Lemelson-MIT recently caught up with Peifer to find out where she is now and to reflect back on her InvenTeam experience.
Q: What was your InvenTeam invention?

We invented a wave-powered electric generator that powered a LED light at the end of boat dock.

Q: Why did your InvenTeam want to invent this?

Our InvenTeam's high school sits on the shores of Lake Wallenpaupack, the largest man-made lake in Pennsylvania. Lake Wallenpaupack plays a vital role in the local tourist economy and our general community. However, one identified problem surrounding lake safety was proper lighting of docks at night since the only lights were on the water's edge that projected out onto the water. Therefore, our team wanted to address this issue and help our community by inventing a wave-powered electric generator that could be placed at the ends of docks to power a LED light.

Q: What was your role on the team?

I was the financial lead on my InvenTeam and I also worked with the communications team when needed.

Q: What was your experience like working on an InvenTeam?

I had a wonderful experience working on an InvenTeam as my teammates and I became close friends by the end of our experience. Together, we learned the process of research and development, a phenomenon applicable to many areas. More importantly, we learned persistence and teamwork. Even when there was a design obstacle, we were determined to find a functional solution as we embraced and built upon one another's strengths. Everyone had something to contribute and we would not have been successful without any one of our members as it truly was a team effort.
Q: What are you doing now?

I am currently a sophomore student at Johns Hopkins University, majoring in Public Health Studies and minoring in Social Policy and Entrepreneurship and Management. I also enjoy a lot of extracurricular activities outside my college courses. I serve on several executive committees for event planning boards. I'm also a peer health educator for the university and serve as the representative on my sorority's Panhellenic executive board.

Q: Did your InvenTeam experience inspire you in your educational path or future career goals? If so, how?

When I was in the middle of my InvenTeam experience, I wanted to be a doctor. Even now I am looking into a career in health policy and management, something normally not directly correlated to engineering. However, health policy and management requires dedicated and innovative individuals, something that my InvenTeam experience helped me to develop.

Q: Any advice you want to give a young inventor or future InvenTeam student?

Do not give up! There will be roadblocks as failure always comes before success. However, it is important to remain motivated to overcome obstacles. I will never forget the first time the LED light was illuminated by the generator. It was that moment in which I realized that everything my team and I went through up until then was worth it.
Related Articles
Wallenpaupack Area High School InvenTeam at the White House Science Fair