Hanging With My Gnomies! December ECHS InvenTeam Blog
December with the Gnomies!
This is East Central's second blog post as one of the winners for the Lemelson-MIT InvenTeam Grant, and we have made lots of progress on our Portable Wildfire Shelter along with our press release template. We have made and accomplished many goals toward sewing our portable shelter with quartz thread along with fundraising to obtain money towards our cause of fighting wildfires. 
Our InvenTeam had the opportunity to introduce our invention to the Jackson County School Board, and enlighten the leaders in our school district about the dangerous wildfires in our community; we also showed how our invention can aid citizens facing wildfires.  Our Educator, Mr. Chesser started the presentation by describing the history of Lemelson-MIT and its current mission, and how our work focuses on teaching others the methods inventors use to solve real-world problems to improve lives. Administrative lead, Kameryn Bardwell, gave a speech shortly after to describe our portable wildfire shelter and why our community could utilize this easy-to-use and life-saving shelter.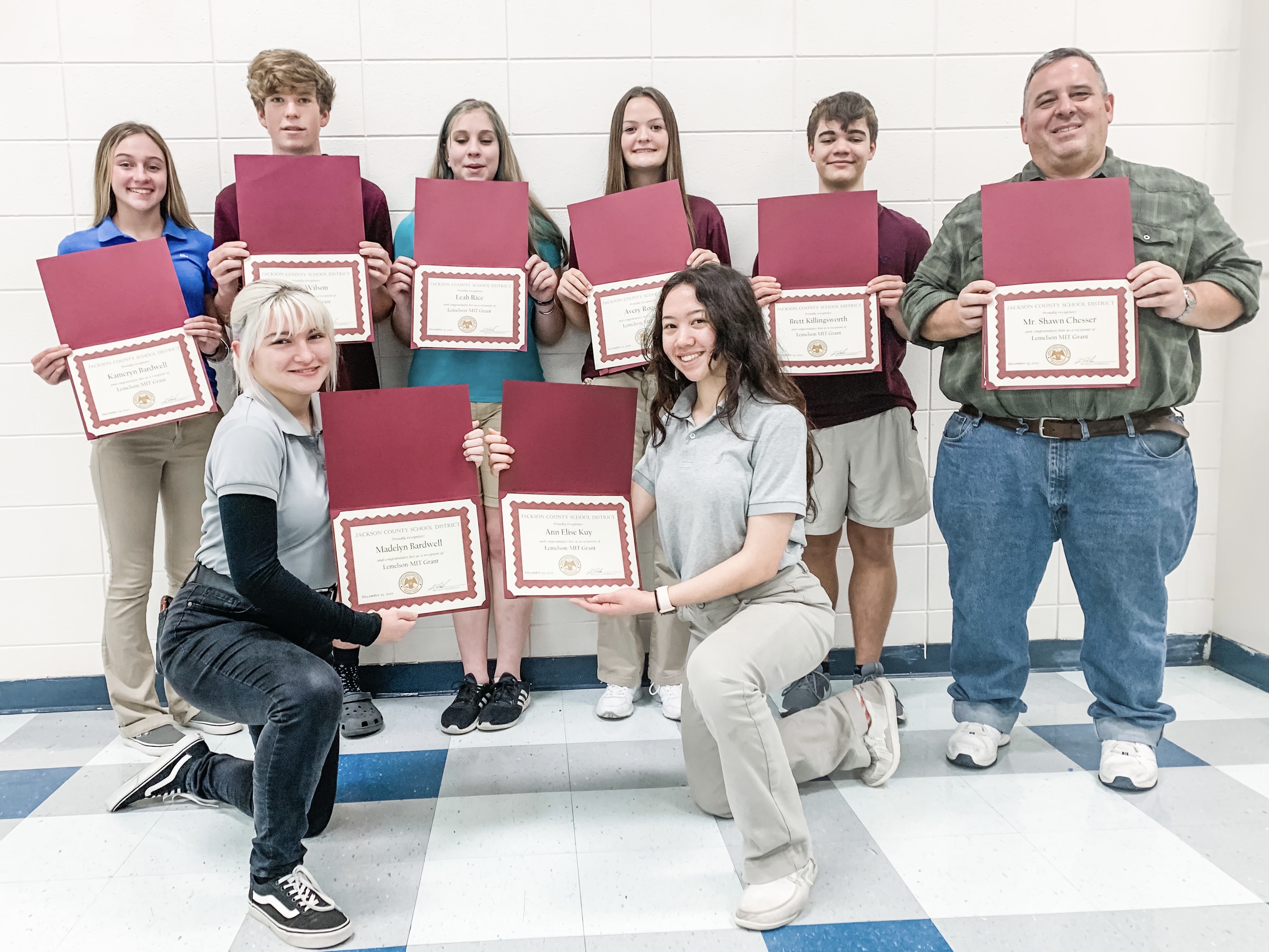 Check out our social media to see Kameryn's amazing speech!
We also prepared to use heavy-duty sewing materials, such as sail-palms and stitching ponies to hand-sew our portable fire shelter. In order to gain much-needed practice, we stitched our own custom tote bags together. It is a really fun project and a great way to bond with everyone on our team!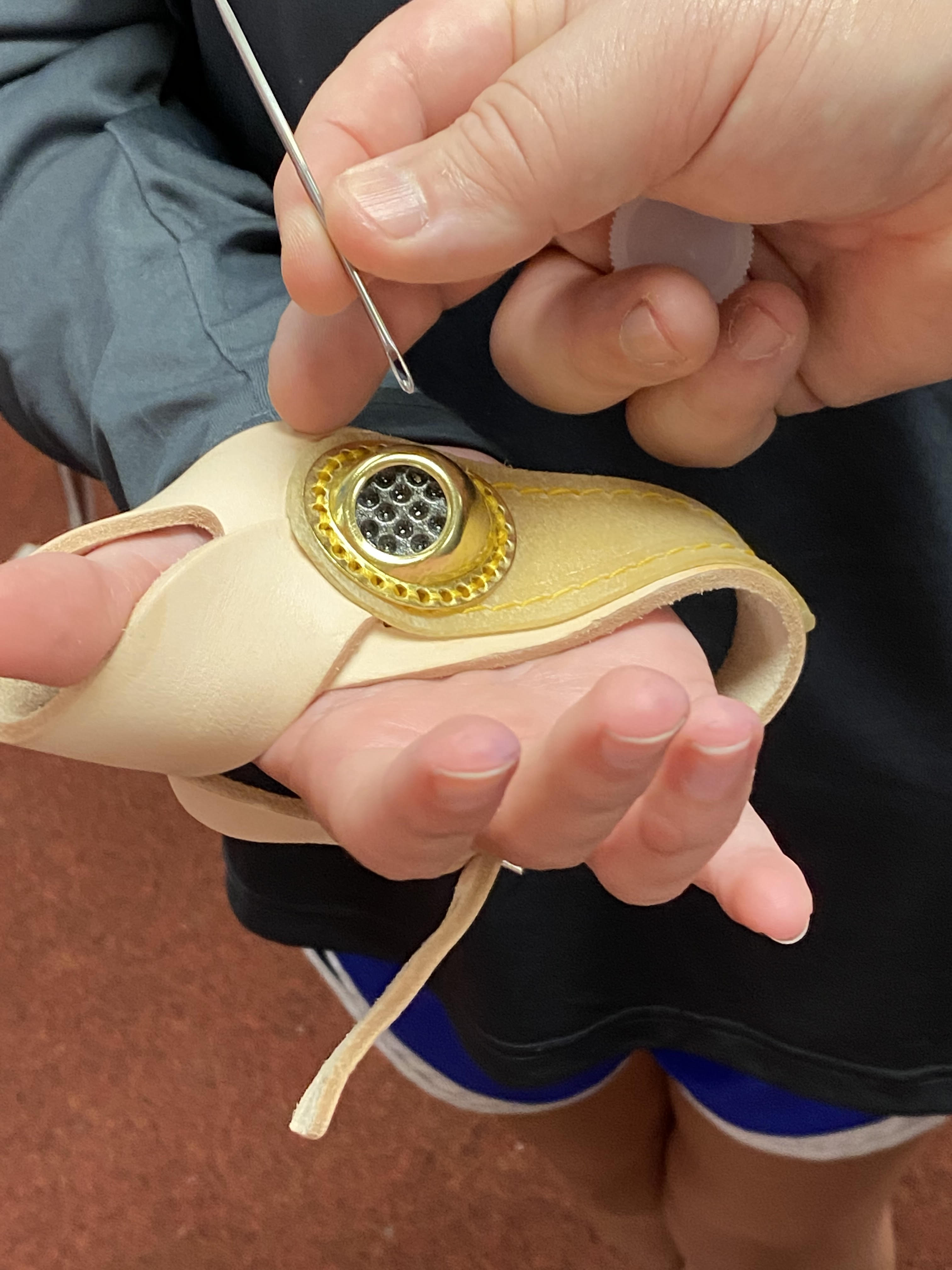 Once it was time to sew our quarter-scale model together, technical team Grant Wilson and Brett Killingsworth tackled the process with their sail-palms and sail needles at the ready. Our quarter-scale model is to be tested against radiant and convective heat as a proof of function.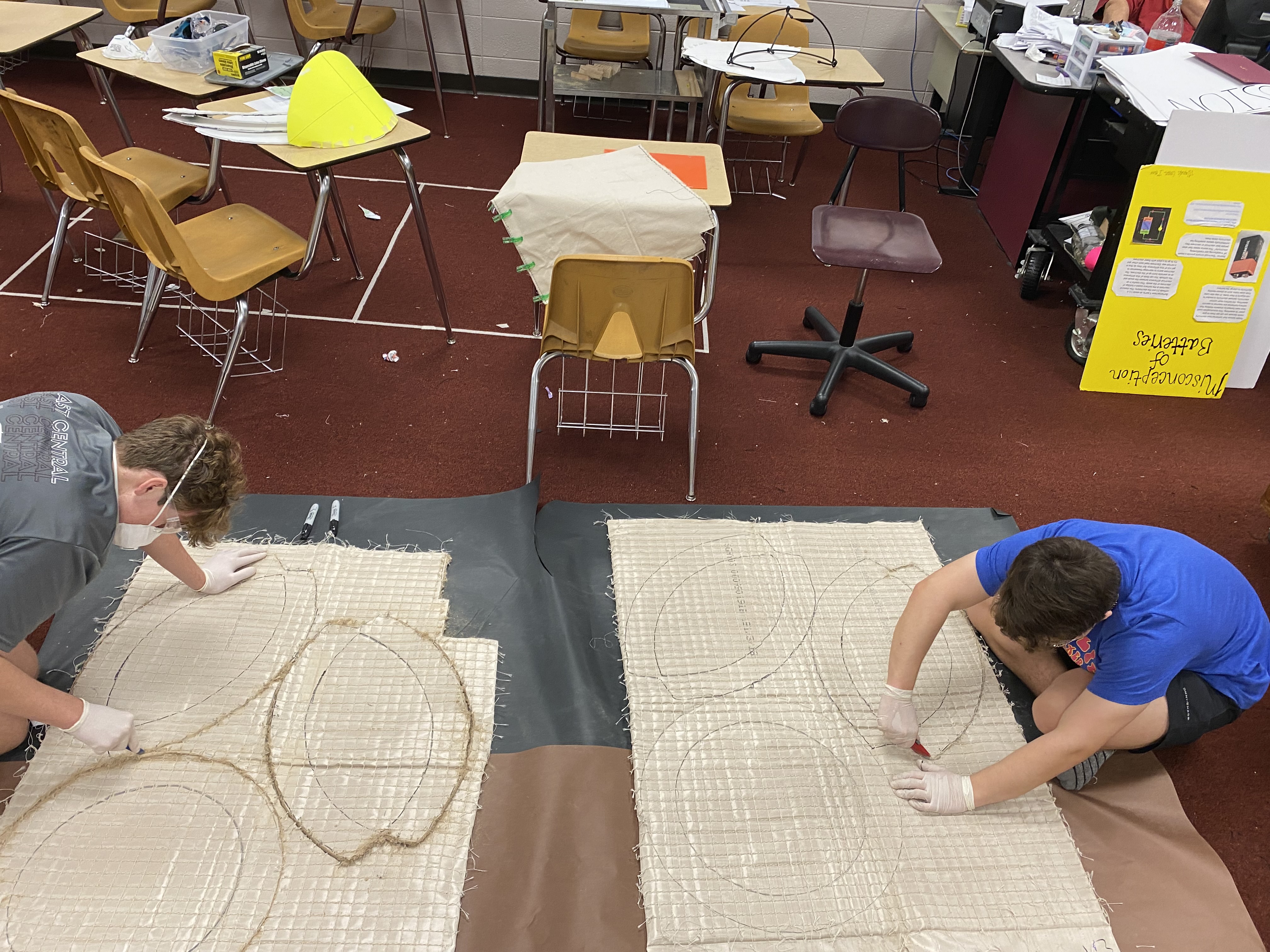 Concerning the filming of burn tests, we needed to find a camera that can safely secure the data of the burn tests, and also withstand the raging heat waves from the fires; furthermore, we need to have a 360 degree view, offering maximum data to be acquired. Our Research Team lead, Breland Graves, and her team members found the perfect camera for this job. The first camera we discovered for the first burn tests is a water resistant action camera. Most cameras cannot withstand infrared heat, but water can, so we thought that  surrounding our action camera with water would keep it from overheating and breaking. We researched and found Dr. Hoeler's Burn Observation Bubble camera. This type of video camera has a tank of water buried underground and with filters that cool water to surround the vulnerable camera, all enclosed by a circular glass structure.
In order to construct our portable fire shelter as best we can, our InvenTeam started a booster club and brainstormed fundraising projects. Just recently, some team members were able to collaborate with the ECHS wrestling team and work for the concession stands. We have also made plans for other projects. 
Communications Lead, Avery Rogers, was able to contact Mississippi Forestry Association to learn more information on wildfires in Mississippi. We also invited Kevin Craft to educate the ECHS InvenTeam with further information so we can use extra knowledge to really understand how to make our project successful.