White House Science Fair Showcases Lemelson-MIT InvenTeams™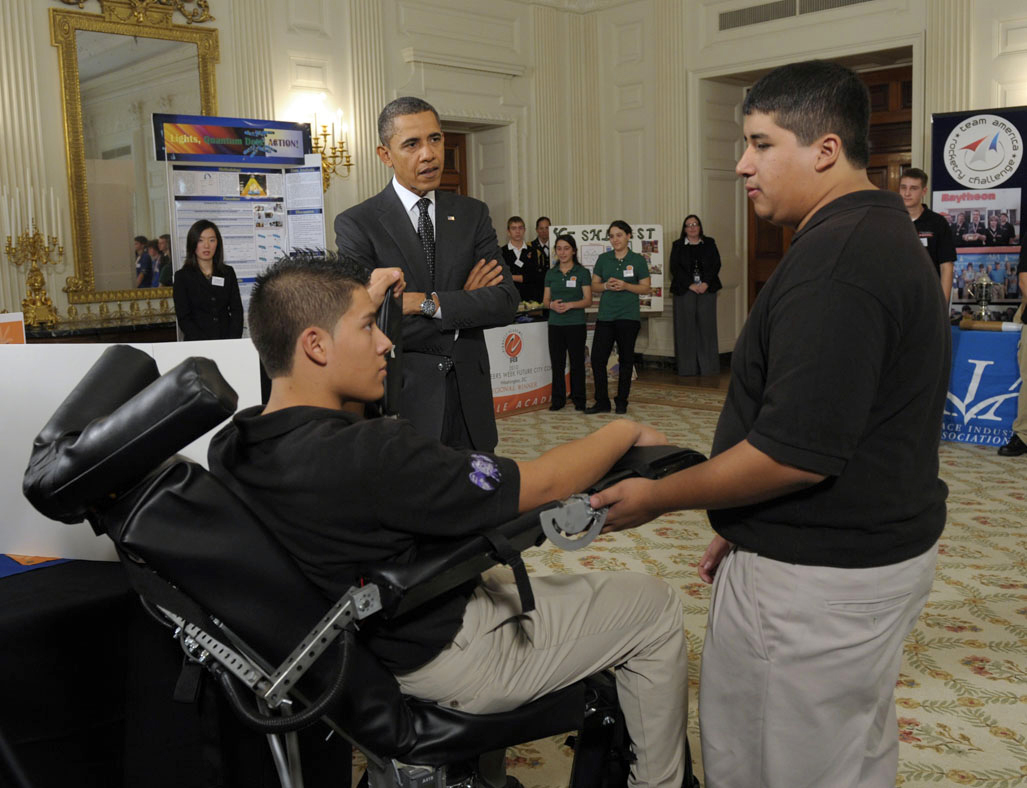 Students epitomize possibilities the InvenTeam initiative provides and serve as role models for 14 new high schools awarded InvenTeam grants for 2010-11.
Cambridge, Mass., October 18, 2010 — Today, two Lemelson-MIT InvenTeams were among more than a dozen teams from around the country that presented their winning work at a White House Science Fair. The fair celebrates the winners of a broad range of science, technology, engineering, and math (STEM) competitions, including students from the Cesar Chavez High School InvenTeam in Laveen, Arizona and the Oak Ridge High School InvenTeam in Oak Ridge, Tennessee to showcase their inventions to President Obama. The timing of this prestigious honor coincides with the Lemelson-MIT Program's announcement of the 2010 – 2011 Lemelson-MIT InvenTeams. 
The White House Science Fair fulfills a commitment the President made at the launch of his Educate to Innovate campaign in November 2009 to inspire boys and girls to excel in math and science. As the President noted then, "If you win the NCAA championship, you come to the White House. Well, if you're a young person and you produce the best experiment or design, the best hardware or software, you ought to be recognized for that achievement, too."

 
InvenTeams are immersed in science, technology, engineering and math, or STEM-focused, project-based learning in both classroom and real-world settings. Teams are encouraged to work with mentors and establish partner relationships with professionals from industry, academia and municipalities in their communities. In many cases, local institutions support InvenTeams with additional funding, materials and insights.
Each InvenTeam, composed of high school students, teachers and mentors, receives up to $10,000 in grant funding to create and pursue yearlong invention projects that provide hands-on access to STEM education.
As members of the 2009-2010 Lemelson-MIT InvenTeam initiative, the Cesar Chavez and Oak Ridge InvenTeams travelled to the White House Science Fair with support from The Lemelson Foundation. The two teams exemplify the goal of the InvenTeam initiative - to encourage youth to invent technological solutions to real-world problems. The Cesar Chavez High School InvenTeam invented a physical therapy chair for medically fragile individuals to reduce muscular atrophy, and the Oak Ridge High School InvenTeam developed a water purifier that provides more widespread access to clean water in rural Appalachia.
"The Cesar Chavez and Oak Ridge InvenTeams' visit to the White House is a testament to the power of invention to change the world and help others. Their altruistic projects have caught the attention of President Obama. With dedicated teachers and support from the government, corporations and non-profit organizations, students can and will build the academic foundation and technical skills – while gaining confidence – that they need to become change-makers," says Leigh Estabrooks, the Lemelson-MIT Program's invention education officer, who oversees the InvenTeam initiative.

 
The selection of the 2010 – 2011 teams follows a September report from the President's Council of Advisors on Science and Technology (PCAST), where recommendations were presented to President Obama to improve K-12 STEM education. One key conclusion was the creation of opportunities that prepare and inspire students to engage in STEM activities outside of the classroom, motivating them to pursue careers in these fields.
A respected panel of judges composed of educators, researchers, staff and alumni from MIT, as well as former Lemelson-MIT Program Award winners and innovation industry leaders, selected the InvenTeams from a national pool of applicants based on the technical merits of their proposals for useful and unique devices. Members of the 2010 – 2011 Lemelson-MIT InvenTeam initiative are drawn from public high schools in rural, suburban and urban communities; those schools and their proposed inventions are:
East
Berlin High School (Cherry Plain, N.Y.): Alert device for hearing-impaired athletes
Smithtown High School West (Smithtown, N.Y.): Solar tracker for a compact, portable, affordable solar charging unit
Central
Bloom High School (Chicago Heights, Ill.): Collection and recycling device for vegetable oil at restaurants
Eureka Springs High School (Eureka Springs, Ark.): Search and rescue cane with GPS, light source and sound mechanism
Green Bay Southwest High School (Green Bay, Wis.): Portable hydroelectric supply station
Kings High School (Kings Mills, Ohio): Portable, low-cost, hydroelectric generator for developing countries
Northbrook High School (Houston, Texas): Energy-efficient cooling blanket
Omaha North High School Magnet (Omaha, Neb.): Sustainable cooking system for developing countries
Pike Central High School (Petersbury, Ind.): Lightweight, portable emergency shelter
South
Carlton J. Kell High School (Marietta, Ga.): Remotely-operated oil removal watercraft
Suncoast High School (Riviera Beach, Fla.): Durable, efficient wave energy conversion system
West
Tehachapi High School (Tehachapi, Calif.): Low-cost, durable shoes for remote villagers in developing countries
West High School (Salt Lake City, Utah): Autonomous, solar-powered robot to locate unexploded weaponry
West Salem High School (Salem, Ore.): Pressure sensitive grip for writing utensils
In June 2011, after working through the various stages of design and prototype development throughout the school year, InvenTeams will showcase their projects at EurekaFest, a multi-day celebration of the inventive spirit, presented by the Lemelson-MIT Program at the Massachusetts Institute of Technology (MIT) campus in Cambridge, Mass.
In addition to the 14 new teams, continuation grants of up to $2,000 will be awarded to select InvenTeams from the previous year interested in establishing a sustainable program for invention in their school curriculums or communities.  Both Cesar Chavez High School and Oak Ridge High School have been selected for continuation grants.