InvenTeams Showcase Inventions at Third White House Science Fair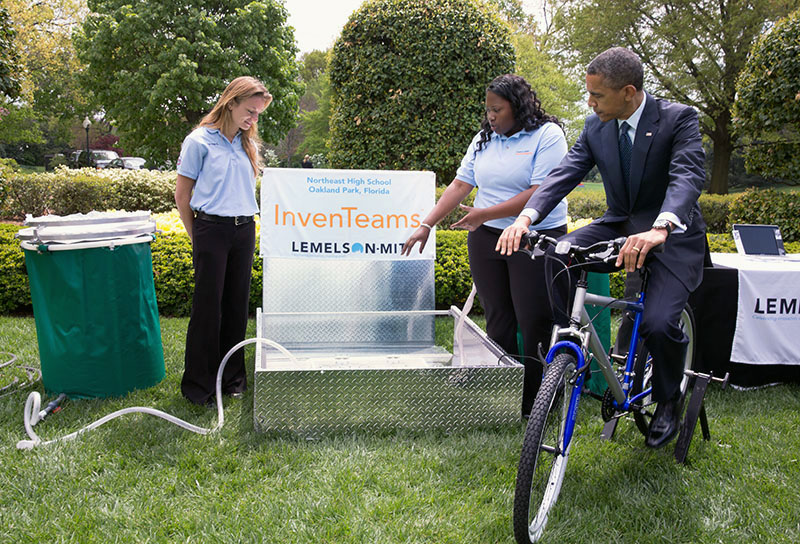 President Obama hosted the third White House Science Fair to celebrate students from across the country and their STEM projects.
Today, President Obama will host the third White House Science Fair celebrating the student winners of a broad range of science, technology, engineering and math (STEM) competitions from across the country. The President hosted the first-ever White House Science Fair in late 2010, fulfilling a commitment he made at the launch of his Educate to Innovate campaign to inspire students to excel in math and science. 
As the President noted then, "If you win the NCAA championship, you come to the White House. Well, if you're a young person and you produce the best experiment or design, the best hardware or software, you ought to be recognized for that achievement, too."
Nearly 100 students from across the country will attend the fair. Many of those students, including students from three Lemelson-MIT InvenTeams will present their work to President Obama at the fair. The Lemelson-MIT InvenTeam initiative inspires a new generation of inventors by engaging students in creative thinking, problem-solving and hands-on learning in science, technology, engineering and mathematics (STEM). Each selected team receives a grant of up to $10,000 to bring their inspirational invention ideas to life.
Lemelson-MIT InvenTeam Exhibitors
The Williamston High School InvenTeam of Williamston, Michigan will exhibit their Offshore Rip Current Alert (ORCA) system which aims to reduce the number of drowning deaths from rip currents in the Great Lakes. ORCA features a buoy equipped with a mechanical flow meter to detect current speeds, and an alarm to alert swimmers when dangerous conditions are present.
Team Attendees
Attending the White House Science Fair from Williamston are Julie Xu and Spencer Ottarson. Julie moved to the U.S. from China in 1999 and is in the 12th grade this year. She is planning to study biochemical engineering in college. Outside of school, she works in a biofuel laboratory at Michigan State University where she researches new methods for developing cleaner fuels.
Spencer is a freshman at Michigan State University majoring in computer science. Entrepreneurial in spirit, Spencer wants to build and run a software company in the future.
The Northeast High School InvenTeam of Oakland Park, Florida invented a portable, bicycle-powered emergency water sanitation station. The eco-friendly system uses cloth filtration and an ozone sanitizer to eliminate pathogens like E. coli from contaminated water. The invention provides 20-30 individuals with 4 liters of drinking water and enough bathing water for five people in a 15-hour period.
Team Attendees
Kiona Elliott and Payton Kaar will attend the fair on behalf of their team. Kiona was recently selected to receive a Gates Millennium Scholarship. The Gates Millennium Scholars Program selects 1,000 talented students each year to receive a good-through-graduation scholarship to use at any college or university of their choice. Kiona will continue her research on clean water and sustainability when she attends the University of Florida in the fall.
Payton is the first in her junior class of more than 400 students. She plans to attend a four-year college in a pre-medical educational track and was just named a Leonore Annenberg Scholarship winner. Leonore Annenberg Scholarship recipients receive full tuition, room and board, a living expense stipend, and a book allowance.
The Bishop Kelly High School InvenTeam of Boise, Idaho invented the MagWrite and MagMouse devices that reduce the effects of various tremors in the hand and forearm when writing, drawing or using a computer mouse. The devices enable persons with tremor conditions to write more accurately and use a computer mouse by damping the tremors, which affect their fine motor control.
Team Attendees
Patrick Schutz, Kevin Brandecker and Lauren Arkoosh will represent their team at the fair. Patrick is a freshman at Duke University studying computer science. He envisions a career as a software developer and eventually wants to create a start-up business.
Kevin is a senior and will attend Gonzaga University next fall to study mechanical engineering. He was inspired to join the InvenTeam after working with his dad to restore an old car.
Lauren Arkoosh is a freshman in the honors program at the University of Portland, majoring in biology with an interest in marine mammalogy.