High School Teams Receive Lemelson-MIT InvenTeam® Grant for Invention Projects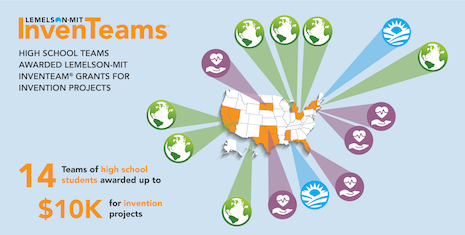 14 student teams nationwide were awarded up to $10K in grants to address local & worldwide problems.
 
Today the Lemelson-MIT Program announced the 2019–2020 InvenTeams, 14 teams of high school students from across the country who each received up to $10,000 in grant funding to build a technological invention to solve a problem of their own choosing. The problems stem from concerns the students have recognized in their local communities, or from ones that they have a personal connection to that exist in the world-at-large. This year's proposed inventions include a wearable device to monitor symptoms of sepsis, an automated machine that cleans beach litter, a system to gauge the flow rate of maple sap, and a publicly accessible laundry machine for people experiencing homelessness. 
Now in its sixteenth year as a national grants initiative, InvenTeams inspire young people to invent technological solutions to real-world problems. The 2019–2020 InvenTeams are comprised of students, teachers and community mentors that will pursue year-long invention projects that involve creative thinking, problem-solving, and hands-on learning in science, technology, engineering and mathematics (STEM). The students also gain knowledge of computer science while working on their projects, which is a critical skill for all young people and especially helpful to their future work as inventors. InvenTeams apply their learnings and experiences to build an invention that will be showcased at a technical review within their home community in February 2020, and then again as a final prototype at EurekaFest — an invention celebration in June 2020 that will be held in Washington, D.C.
"I am impressed by this year's InvenTeams and their commitment to solving important problems in society," said Stephanie Couch, executive director of the Lemelson-MIT Program. "By drawing on many different disciplines, the InvenTeam initiative helps shape well-rounded students who are better equipped to tackle the technological problems they will face in the modern workplace. Approximately 2,750 students have taken part in the InvenTeam experience and 35% are girls, which is encouraging in a time when women represent only 10% of U.S. patent holders. The InvenTeam initiative fosters the ability to engage with others in order to develop understandings of problems and to envision solutions that take the views of end users into account. The work supports students of all backgrounds in developing creative and inventive problem solving skills that will be of benefit in their college and career endeavors, and in their personal lives."
"This year's projects demonstrate the dedication of young students to make a positive impact in the world through invention," said Tony Perry, the Lemelson-MIT Program's invention education coordinator who will work with the teams throughout the year. "The InvenTeams will help solve major problems in areas such as environmental sustainability, regional food harvesting, and healthy living." 
Meet the 2019–2020 InvenTeams
The InvenTeams hail from 12 different states, including South Dakota and Nevada, two states that have never had an InvenTeam prior to this year. The invention projects were selected by a respected panel from the Cambridge and Boston area, consisting of university professors, inventors, entrepreneurs, industry professionals, and college students who were on InvenTeams when they were in high school.
Solving Problems in Health and Community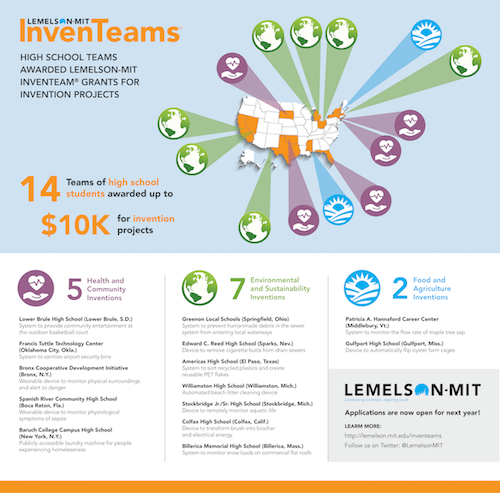 Lower Brule High School (Lower Brule, S.D.): System to provide community entertainment at the outdoor basketball court
Francis Tuttle Technology Center (Oklahoma City, Okla.): System to sanitize airport security bins
Bronx Cooperative Development Initiative (Bronx, N.Y.): Wearable device to monitor physical surroundings and alert to danger
Spanish River Community High School (Boca Raton, Fla.): Wearable device to monitor physiological symptoms of sepsis
Baruch College Campus High School (New York, N.Y.): Publicly accessible laundry machine for people experiencing homelessness
Solving Problems in Environment and Sustainability
Greenon Local Schools (Springfield, Ohio): System to prevent humanmade debris in the sewer system from entering local waterways
Edward C. Reed High School (Sparks, Nev.): Device to remove cigarette butts from drain sewers
Americas High School (El Paso, Texas): System to sort recycled plastics and create reusable PET flakes
Williamston High School (Williamston, Mich.): Automated beach litter cleaning device
Stockbridge Jr./Sr. High School (Stockbridge, Mich.): Device to remotely monitor aquatic life
Colfax High School (Colfax, Calif.): Device to transform brush into biochar and electrical energy
Billerica Memorial High School (Billerica, Mass.): System to monitor snow loads on commercial flat roofs
Solving Problems in Food and Agriculture
Patricia A. Hannaford Career Center (Middlebury, Vt.): System to monitor the flow rate of maple sap
Gulfport High School (Gulfport, Miss.): Device to automatically flip oyster farm cages
Calling All High School Inventors!
The Lemelson-MIT InvenTeam application for the 2020–2021 school year is now available here. STEM teachers are encouraged to apply now through April 6, 2020.
Invention Education Opportunity for K-12 Educators
Teachers and school administrators, if you are not yet ready for a year-long invention experience with students, consider applying for an Excite Award to attend, free of charge, a three-day professional development workshop with other teachers in our community on July 29-31, 2020 at MIT. Learn how others have implemented pathways for invention education in their schools and districts through classes, afterschool enrichment activities, and camps, as well as InvenTeams. More information on Excite Awards can be found here.