High School Teams Awarded Lemelson-MIT InvenTeam™ Grant for Invention Projects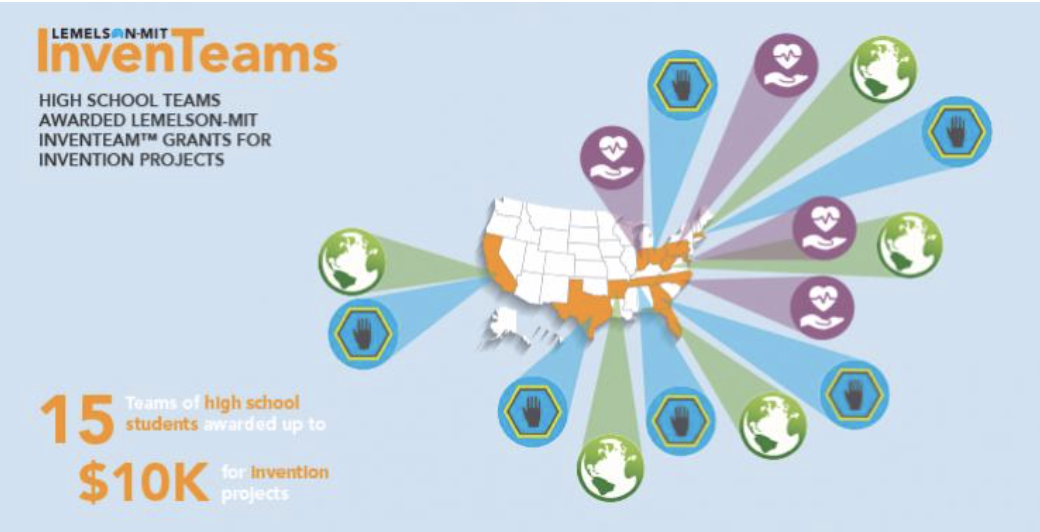 15 student teams nationwide set sights on inventing solutions to real-world problems.
The Lemelson-MIT Program today introduced the 2016–2017 InvenTeams, 15 teams of high school students nationwide, each receiving up to $10,000 in grant funding to solve real-world problems through invention.
The InvenTeam initiative, now in its 14th year, inspires youth to invent utilizing hands-on, active learning strategies. Active learning strategies in STEM (science, technology, engineering and math) are best practices promoted by the White House Office of Science and Technology Policy (OSTP) in which students engage, think about and solve problems. In a recent study conducted by the Lemelson-MIT Program, 67 percent of InvenTeam alumni college graduates reported they are now working in a STEM field, demonstrating the impact of this learning approach in empowering and educating the next generation of scientists and engineers.
"My experience as a member of the Northeast High School Lemelson-MIT InvenTeam taught me that science can be used as a tool to solve problems and improve lives," said Kiona Elliot, 2012 InvenTeam member, 2013 White House Science Fair exhibitor of her team's invention, and a current senior at the University of Florida majoring in horticultural science. "During this time, I realized that invention using science and technology is more than the development of the latest smartphone; it provides a real opportunity to make a difference. After graduating from UF, I plan to take the lessons I learned from the InvenTeam initiative to graduate school and use my skills and knowledge to feed our growing global population."
"Kiona speaks eloquently for other InvenTeam students who want to make a difference in our world through thoughtful consideration of technological inventions that can improve our lives," said Leigh Estabrooks, invention education officer for the Lemelson-MIT Program. "It is rewarding to see students actively engaged and integrating STEM while working on their inventive solutions to real-world problems, but the truly inspiring impact is the long-term effect on the students and the leadership qualities the InvenTeam initiative instills in participants."
The 2016–2017 InvenTeams are from 13 different states and represent public schools, charter schools, private schools and afterschool programs, proving that active learning can take place anywhere. This year's InvenTeams, comprised of students, teachers and community mentors, will pursue year-long invention projects, including a system to provide temporary shelter for people who are homeless, a device to sense pets and children in the backseats of cars, and a robotic device that monitors the environment to help prevent heat stress in young chickens.
Meet the 2016–2017 InvenTeams
A respected panel of invention and academic leaders from the Massachusetts Institute of Technology (MIT), the Lemelson-MIT Program, industry and InvenTeam student alumni selected this year's InvenTeams from a national pool of applicants.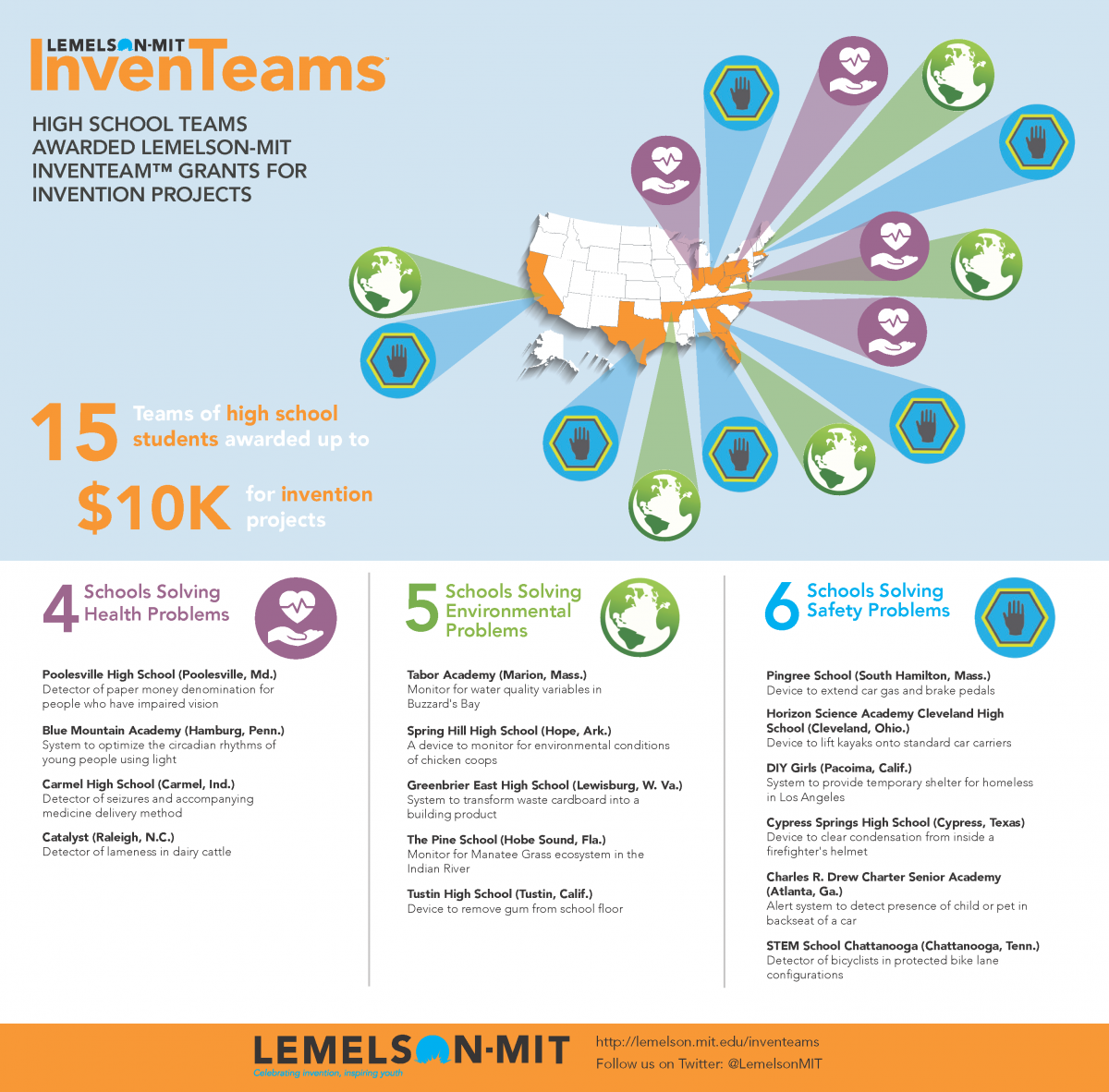 Solving Health Problems
Poolesville High School (Poolesville, Md.): Detector of paper money denomination for people who have impaired vision
Blue Mountain Academy (Hamburg, Penn.): System to optimize the circadian rhythms of young people using light
Carmel High School (Carmel, Ind.): Detector of seizures and accompanying medicine delivery method
Catalyst (Raleigh, N.C.): Detector of lameness in dairy cattle
Solving Environmental Problems
Tabor Academy (Marion, Mass.): Device to monitor water quality variables in Buzzard's Bay
Spring Hill High School (Hope, Ark.): Device to monitor environmental conditions in commercial chicken coops
Greenbrier East High School (Lewisburg, W. Va.): System to transform waste cardboard into a building product
The Pine School (Hobe Sound, Fla.): Device to monitor Manatee Grass ecosystem in the Indian River
Tustin High School (Tustin, Calif.): Device to remove gum from school floor
Solving Safety Problems
Pingree School (Hamilton, Mass.): Device to extend car gas and brake pedals
Horizon Science Academy Cleveland High School (Cleveland, Ohio): Device to lift kayaks onto standard car carriers
DIY Girls (Pacoima, Calif.): System to provide temporary shelter for homeless in Los Angeles
Cypress Springs High School (Cypress, Texas): Device to clear condensation from inside a firefighter's helmet
Charles R. Drew Charter Senior Academy (Atlanta, Ga.): Alert system to detect presence of child or pet in the backseat of a car
STEM School Chattanooga (Chattanooga, Tenn.): Detector of bicyclists in protected bike lane configurations
The 2016–2017 InvenTeams will showcase their projects at EurekaFest™ in June 2017. EurekaFest is the Lemelson-MIT Program's multi-day celebration of the inventive spirit at MIT in Cambridge, Massachusetts.