2011-2012 Lemelson-MIT InvenTeams Selected from National Pool of Applicants
 Today, the Lemelson-MIT Program announced the 16 teams of students, teachers and mentors selected to participate in the 2011–2012 InvenTeam  initiative.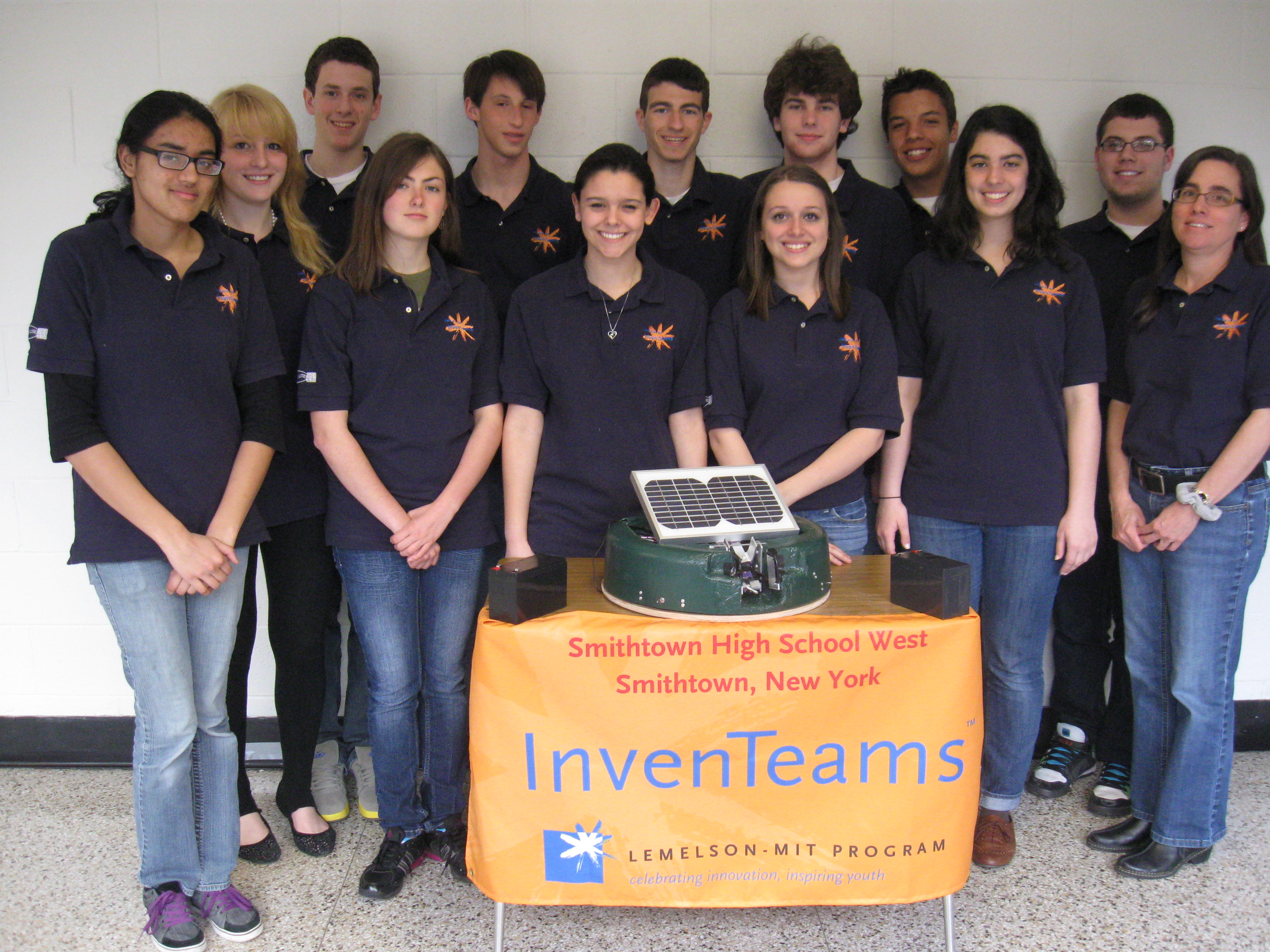 Cambridge, Mass., October 19, 2011 — Today, the Lemelson-MIT Program announced the 16 teams of students, teachers and mentors selected to participate in the 2011–2012 InvenTeam  initiative. The Lemelson-MIT InvenTeam initiative inspires a new generation of inventors by engaging students in creative thinking, problem-solving and hands-on learning in science, technology, engineering and mathematics (STEM).
Each InvenTeam will receive up to $10,000 in grant funding to create and pursue a yearlong invention project addressing a real-world problem. This year's projects include a natural disaster emergency relief filtration station, mechanical assist stair climber, and a portable medical support system. The diverse group of teams – including a KIPP charter school, Boy Scout troop,  4 – H Club, as well as private and public high schools – will leverage their distinct experiences and skills to develop their invention prototypes over the next eight months.
According to a recent independent survey conducted by the Lemelson-MIT Program, 45 percent of InvenTeam alumni are currently studying engineering in higher education versus 15 percent of the comparison group of young adults 17-25 years of age.1 InvenTeam alumni also showed greater involvement in academic extracurricular activities in high school (57 percent compared to 44 percent of young adults), and were more likely to hold a leadership role in an academic extracurricular activity (46 percent). Ninety-one percent of InvenTeam alumni were influenced to pursue STEM-interests by their high school activities, specifically, invention, robotics and engineering clubs.
InvenTeams helps prepare high school students to accept challenges and pursue their STEM-inspired career goals. In addition to developing creativity and teamwork skills, InvenTeams are encouraged to engage with professionals from industry and academia in their communities. Through such real-world learning opportunities, students gain the skills needed to be competitive, not only in education but in business. Motivated by these experiences, InvenTeam members will have the ability to contribute to the global economy through their continued desire to innovate.
"Providing students with multi-disciplinary experiences through invention has always been a critical aspect of the InvenTeam initiative," said Leigh Estabrooks, the Lemelson-MIT Program's invention education officer. "The impact of InvenTeams goes far beyond each team's project and school year experience. It can be life changing for some, as peer-reviewed studies have shown leadership in high school extracurricular activities leads to higher wages for young adults."
In June 2012, the teams will showcase their projects at EurekaFest, the Lemelson-MIT Program's public, multi-day celebration of the inventive spirit, at MIT in Cambridge, Mass. In addition to the new teams, grants of up to $2,000 are awarded to select InvenTeams from last year to continue their projects and establish sustainable invention programs in their communities.
Introducing the 2011–2012 InvenTeams
A respected panel of innovation leaders from the Massachusetts Institute of Technology (MIT), the Lemelson-MIT Program, and industry selected the InvenTeams from a national pool of applicants. The 2011–2012 Lemelson-MIT InvenTeams and their proposed inventions are:
East
Bergen County Academies (Hackensack, N.J.): E-waste power generator
Boy Scout Troop 703 (Brevard, N.C.): Ergonomic bariatric rescue system
Cornell Cooperative Extension of Essex County/4–H Club (Westport, N.Y.): Bio-sand water filter
Eastern Regional High School (Voorhees, N.J.): Ultraviolet water filtration and storage device
Landmark School (Prides Crossing, Mass.): Desalination drip irrigation system
Sidwell Friends School (Washington, D.C.): Gray water electricity generator
S.S. Seward Institute (Florida, N.Y.): Portable solar-powered autoclave for sterility
Central
Troy High School (Troy, Mich.): Mechanically assist stair climber
Williamston High School (Williamston, Mich.): Offshore rip current alert system
South
Clear Lake High School (Houston, Texas): Portable medical support system
East Central High School (Hurley, Miss.): Solar dry heat sterilizer
KIPP Houston High School (Houston, Texas): Air pollution absorbing paint
Northeast High School (Oakland Park, Fla.): Natural disaster emergency relief filtration station
West
Bishop Kelly High School (Boise, Idaho.): Portable assistive writing device with magnetic damping
The Harker School (San Jose, Calif.): Aquatic thermoelectric generator
Lynden High School (Lynden, Wash.): Self-balancing recumbent trike
Opinion Research Corporation International (ORC) was commissioned by the Lemelson-MIT Program to conduct a survey among 145 InvenTeam alumni, as well as a sample of 500 young adults 17-25 years of age. Using an online interview format, the surveys were conducted from July 26 – September 7, 2011.