Making progress | The EIHS InvenTeam's Progress, January-February Edition
Hello, dear reader--
As we explained in our last post, our project revolves around a type of additive manufacturing called fused deposition modeling 3D printing. If you're unfamiliar with 3D printing, never fear, we've created a slide set with a bunch of relevant information about the manufacturing technique that can be found here. Now, on to the blog--
~~~~~~~~~~~~~~~~~~~~~~~~~
This blog has been extremely difficult to write, a truth which I can reasonably attribute to the distracting novelty of snow falling outside my window.
SNOW. In HOUSTON.
But I digress.
Over the past month and a half, we had a total of 5 team meetings (one each week, excepting the week of final exams). Below is a description of what each subteam accomplished during the month of January and early February.
For further info about each sub team's responsibilities, check out our first blog!
The Administration Team
In addition to our virtual meetings, the admin team finally managed to schedule a few in-person meetings at Energy's campus! The team ended up meeting in-person twice to assemble various aspects of our project. The team also scheduled a date (March 3rd) for our Mid-Grant Technical Review, which essentially entails a virtual presentation of our progress to those who might be interested in our work. Stay tuned for more information about the tech review (presentation links, etc)!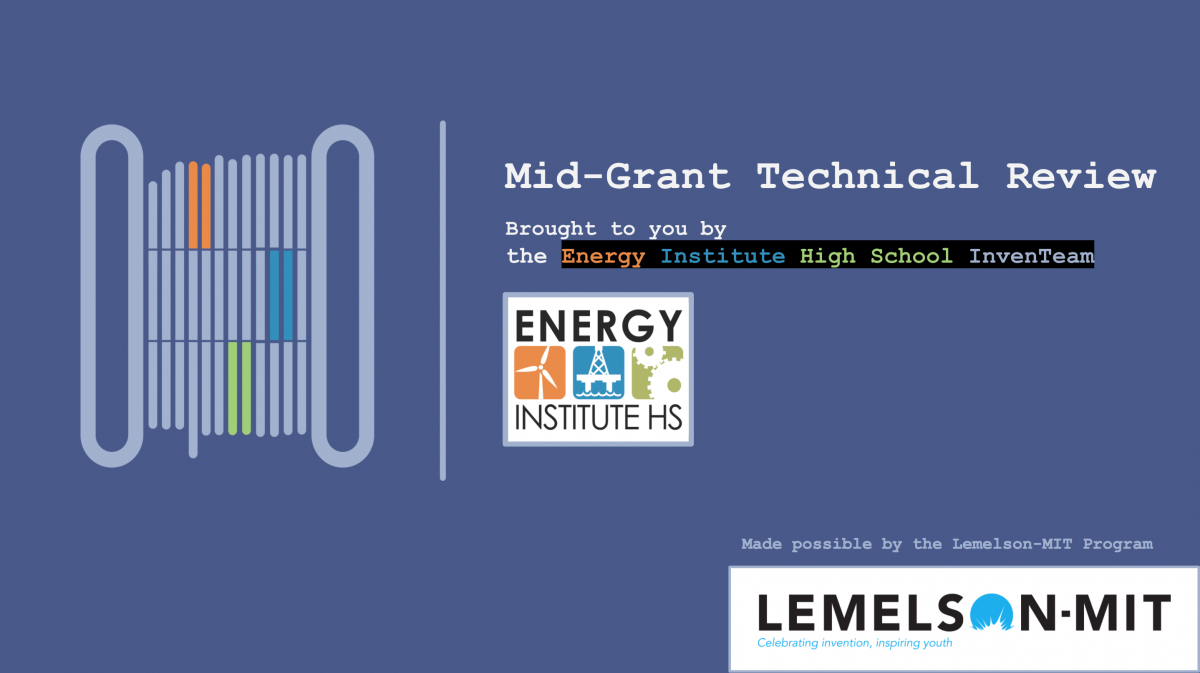 The Financial Team
As a refresher, Eurekafest is held in June of every year at MIT as an opportunity for InvenTeams to present their year-long prototyped projects to the attendees. In the past month, Lemelson-MIT announced that Eurekafest (the event for which we were originally fundraising) will be held virtually due to the ongoing risk of COVID-19. Although we were looking forward to attending the Eurekafest in person, we completely understand Lemelson-MIT's decision and are glad that safety remains a priority.
That being said, any further fundraising will go directly to the advancement of our prototype post-InvenTeam and the benefit of our team. Despite these setbacks, we will continue to pursue a high-quality product that will enhance the learning experience of future Energy Institute students and ultimately make a lasting contribution to our school community. We are so grateful for all of the support we have received thus far!
The Communication Team
The communication team has begun sending invitations to people who might be interested in viewing our mid-grant technical review! Again, stay tuned for more information on that front.
The Sustainability + Technical Teams
This past month, the sustainability and technical teams led the assembly of the three test 3D printers we purchased for our project; we will use two of them for rapid part manufacturing, and the third for our final prototype.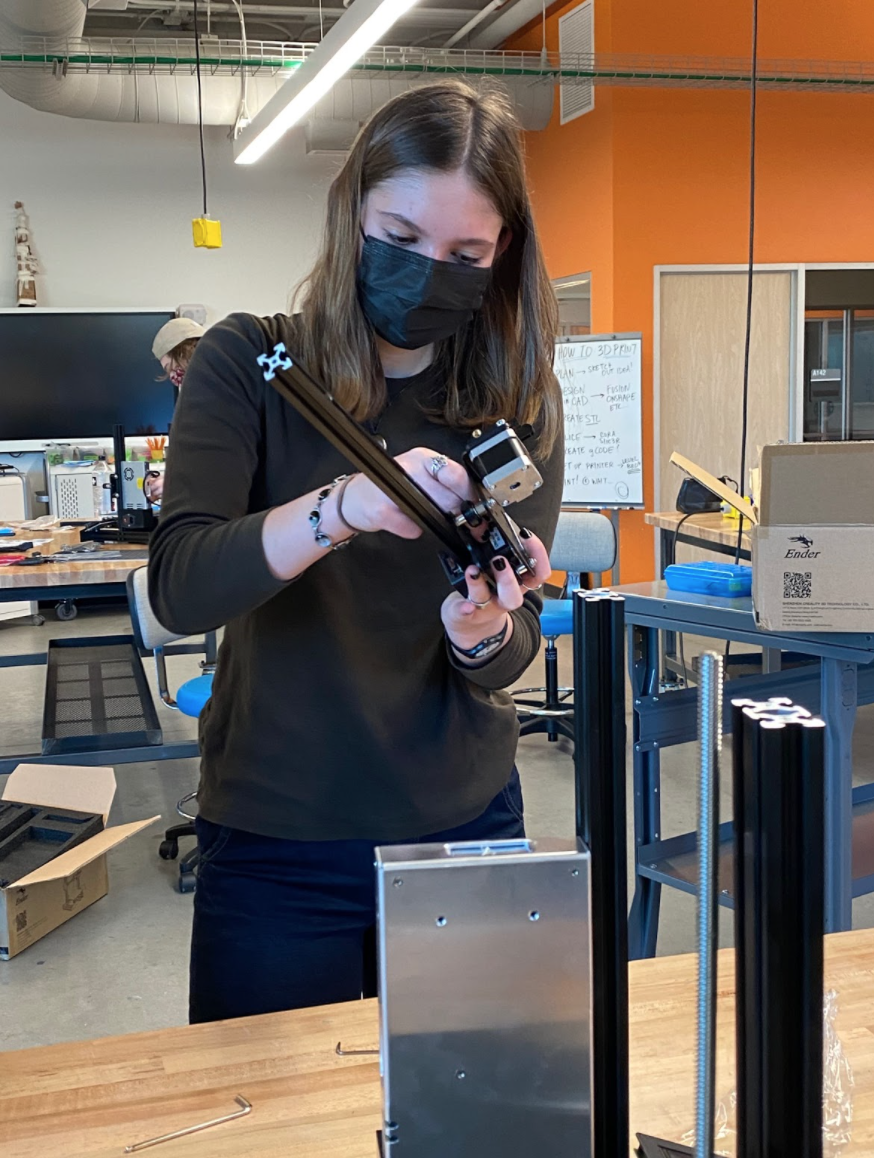 As our printers were assembled, we were able to print some tests for the plastic component of our pellet extruder. Below is the model that Orian designed and was able to test-print. As you can see, the part fits snugly onto the Ender 3 printer extruder mounting plate, which was the objective of this design.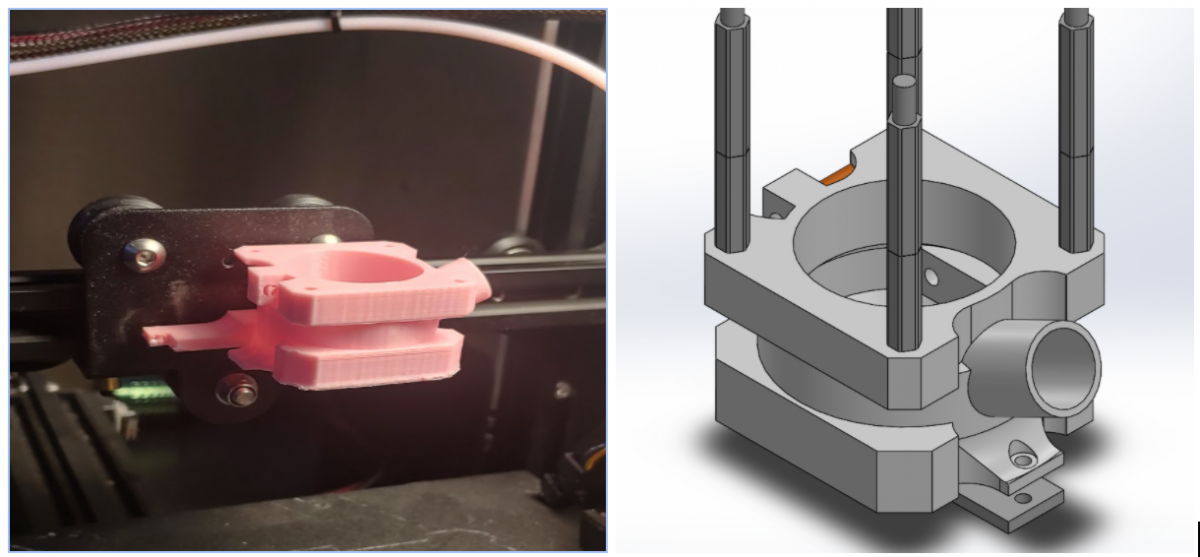 We were also able to laser cut a wooden draft of our filament shredder (now vertically-mounted, thanks to some design iterations). As janky as it sounds, it has the practical use of being testable for design tolerances and giving us an accurate visual on how our mechanism would appear on our printer before we plasma cut our final design from sheet metal.
In our next meetings, we hope to assemble both our filament shredder and pellet extruder prototype completely (assuming, of course, that all of our remaining components arrive on time). We will test our extruder with some pre-shredded filament pellets, and will design and 3D print a shredder mount in preparation for our mid-grant tech review.
Research Team
Over the past month and a half, the Research Team updated our team's project schematic, shown below! As we mentioned above, our design will eliminate the side-mounted shredder, opting instead for a vertically mounted shredding mechanism located directly over the 3D printer crossbar.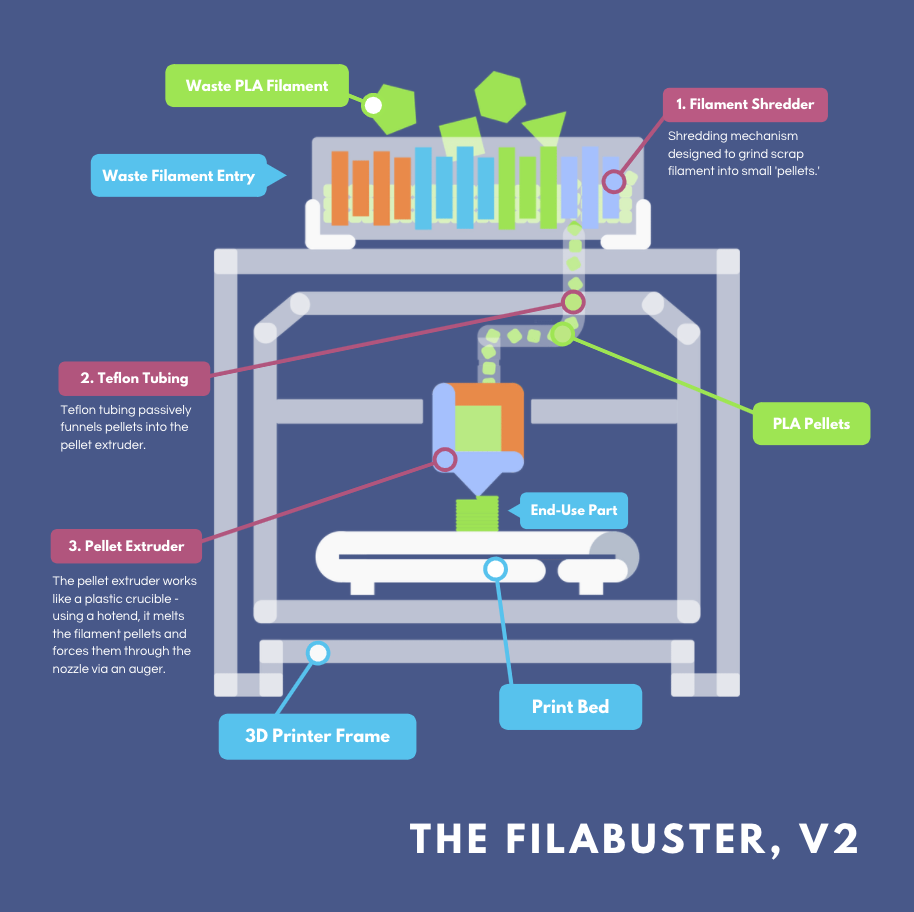 Though normally a job for the research team, the whole InvenTeam pitched in and began to create our slides for the mid-grant technical review, which we'll cover in more depth in our next blog. See you then!
~~~~~~~~~~~~~~~~~~~~~~~~~~~~~~~~~~~~~~~~
Whew.
Effectively and accurately documenting our engineering process takes a lot of time, and we're so grateful for the support we've received so far from people like you.
Feel free to follow our Instagram page @eihs.inventeam, or shoot us an email at eihs.ivt@gmail.com if you have questions or are a business/company who'd like to sponsor our project!
Cheerio,
-allie, oscar, bella, orian, kendall, ian, noah, cole, diya, risto, ben