An Wang
Pulse Transfer Controlling Device
Computing and Telecommunications
An Wang was a prominent Chinese-American computer engineer and inventor who invented the magnetic pulse transfer controlling device. This device made magnetic core memory possible in the development of computers.  
Wang was born on February 7, 1920 in Shanghai, China, the oldest of five children. As a child, Wang excelled in math and science and even constructed his own radio as a high school student. He went on to study communications engineering at Chiao-Tung University in Shanghai. During World War II, he designed radio receivers and transmitters for China in their fight against Japan.  
An Wang immigrated to the U.S. from Shanghai in 1945, and three years later earned a doctorate in applied physics from Harvard University. In 1949, Wang married Lorraine Chur and together they had three children. In 1951, he founded Wang Laboratories, Inc., which under his technological and managerial guidance became one of the most recognized and successful corporations at the dawn of the Information Age. 
Having received more than 35 patents, Wang's first major contribution to information technology was his invention of the magnetic "Pulse Transfer Controlling Device," granted a U.S. patent in 1955. By precisely regulating the flow of magnetic energy, Wang made magnetic core memory a practical reality. This breakthrough assisted in the development of personal computers. His invention dominated computer memories until cores were later replaced by solid-state devices.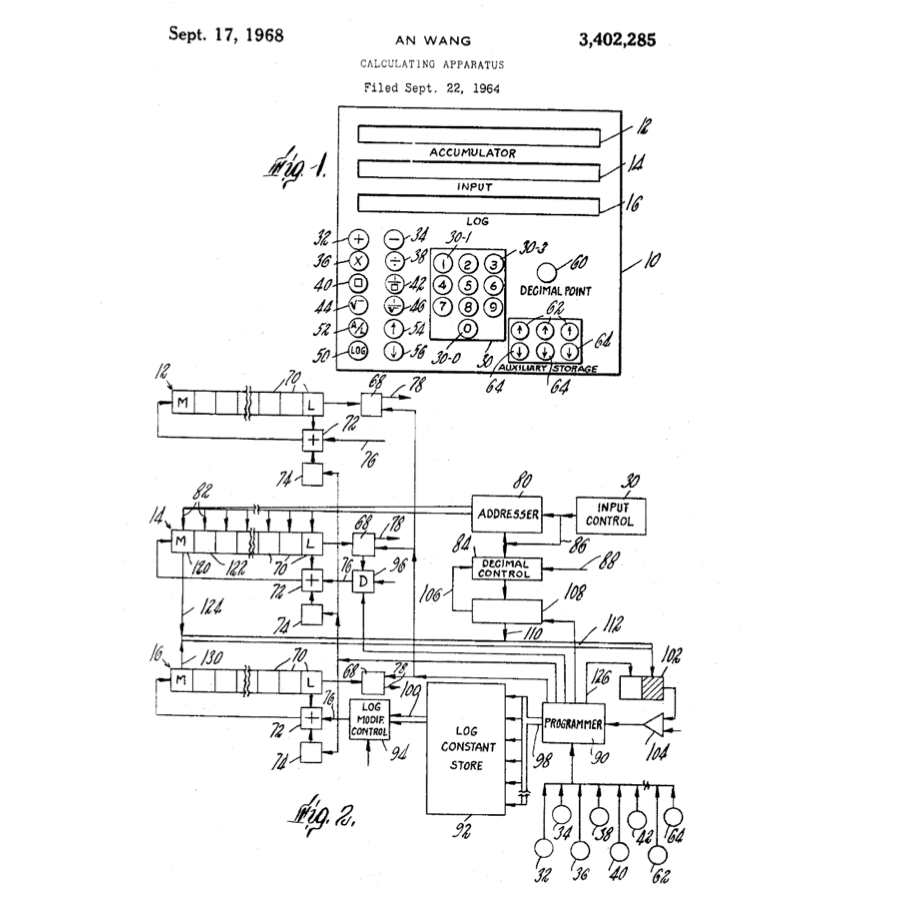 In 1965, Wang introduced "LOCI," the first desktop computer to generate logarithms at a single keystroke. The technology of LOCI formed the basis of the subsequent Wang electronic desk calculator. 
In the 1970s and 1980s, Wang's own inventions helped Wang Laboratories become a major manufacturer of the prototypical desktop computers used in laboratories and schools. Throughout those years, Wang oversaw an uninterrupted series of more compact and efficient instruments and systems for use in office automation and information processing. By the time of An Wang's death from cancer on March 24, 1990, his company was experiencing financial hardships and would later be acquired by Getronics of the Netherlands.  
An Wang was also a noteworthy philanthropist, whose efforts and funds continue to foster the arts and sciences, especially in and around the city of Boston. Wang himself served as a member of the Massachusetts Board of Higher Education and the Massachusetts Board of Regents, as trustee of Northeastern University and of Boston College, and as an overseer of Harvard University. In 1983, the Wang family donated millions to save the Boston Metropolitan Center, renamed the Wang Center for the Performing Arts. In 1986, Wang received the U.S. Medal of Liberty and in 1988 he was inducted into the National Inventors' Hall of Fame.