Richard G. Drew
Masking tape and transparent adhesive tape
Consumer Devices
Richard G. Drew invented one of the most practical items to be found in any home or office: transparent adhesive tape.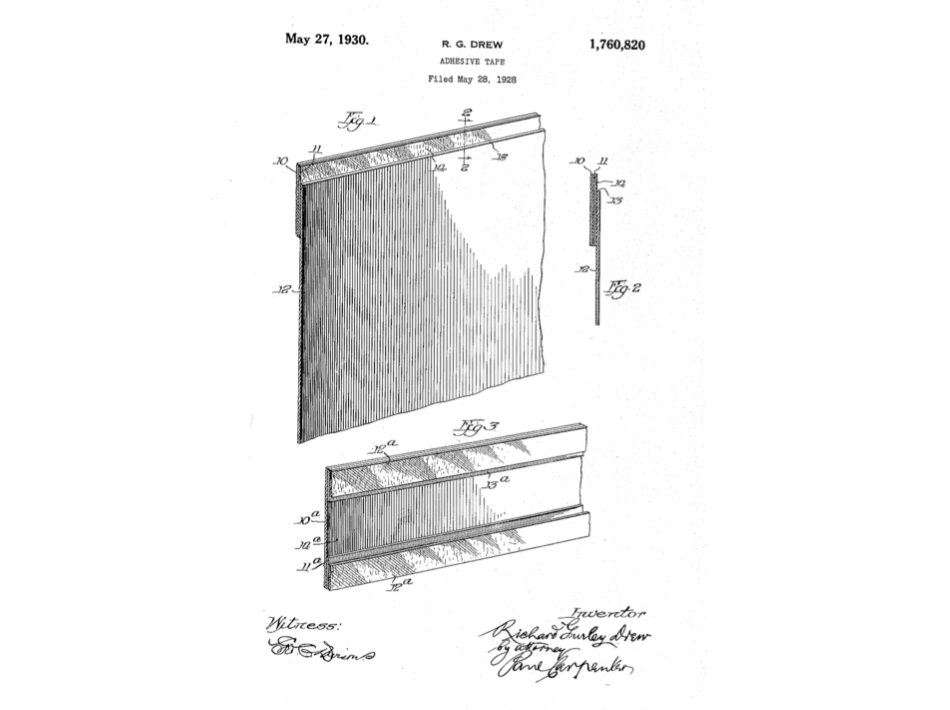 Drew was born on June 22, 1899 in St. Paul, Minnesota. He completed just a year of mechanical engineering studies at the University of Minnesota and was a banjo player in a local orchestra when he applied for a lab technician job. Drew joined 3M in St. Paul, Minnesota in 1923, a modest manufacturer of sandpaper. Drew tested their new "Wetordry" sandpaper, the world's first water-resistant coated abrasive. Automobile manufacturers could use the product with water to reduce dust and decrease the friction that often ruined auto finishes. While doing this testing, Drew was intrigued to learn that the two-tone car paint jobs so popular in the Roaring Twenties were difficult to manage at the border between the two colors. In response, after two years of work in 3M's labs, Drew invented the first masking tape in 1925. It was a two-inch-wide tan paper strip backed with a light, pressure-sensitive adhesive. 
The first tape had adhesive along its edges, but not in the middle. In its first trial run, it fell off the car, and a frustrated auto painter growled at Drew, "Take this tape back to those Scotch bosses of yours and tell them to put more adhesive on it!" The founders of 3M were of Scottish descent. At the time, there was a stereotype that Scottish people were stingy, and "Scotch" was used as a pejorative. The nickname "stuck" to Drew's improved masking tape.  
In 1930, Drew came up with his greatest invention, Scotch (TM) Brand Cellulose Tape. This, the world's first transparent tape, added a nearly invisible adhesive, made from rubber, oils and resins, to a coated cellophane backing. The adhesive was waterproof and withstood a wide range of temperature and humidity, because it was designed to seal cellophane food-wrap. The public, forced by the Great Depression to fix things instead of buying new things, found hundreds of uses for it at work and at home. Uses included sealing packages, mending clothes, and even preserving cracked eggs.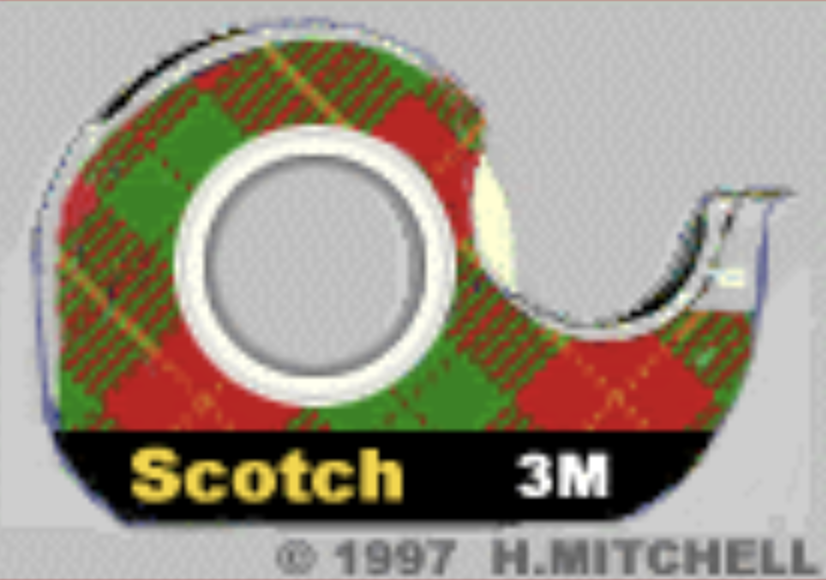 Drew's creativity not only brought great financial success, but helped transform 3M into a research driven company. Drew became director of the new Products Fabrication Laboratory in 1943 after his tape products proved so popular.  
Drew and his team invented reflective sheeting to improve road signs, breathable surgical tapes, foam tapes, face masks, and electrical insulation, among other adhesive innovations. Drew received over 30 U.S. patents by the time he retired in 1962. Drew died on December 14, 1980 in Santa Barbara, California. He was posthumously inducted into the National Inventors Hall of Fame in 2007 and is remembered for being a wonderful mentor to people on his team, fostering their inventive spirits. Today, especially at holiday gift-wrapping time, Richard G. Drew's transparent adhesive tape remains one of the most pervasive and practical inventions of all time.