Prince Nelson
Portable Electric Keyboard
Consumer Devices
Prince, an American singer-songwriter, musician and producer, is widely regarded as one of the most influential artists of his generation. Prince's instrumental genius, androgynous persona, and multi-genre music brought him tremendous success. He has over 100 million records sold worldwide, seven Grammy Awards, and was inducted into the Rock and Roll Hall of Fame. His invention of a portable electric keyboard showcased an example of his immense creativity.  
Prince was born Prince Rogers Nelson in Minneapolis, Minnesota on June 7, 1958. His father, John Nelson, was a songwriter and musician, and his mother, Mattie Shaw, was a jazz singer. Prince was given his father's stage name, which was Prince Rogers. With musician parents, Prince delved into music at a young age and learned to play guitar, piano, and drums. In high school he formed his first band, Grand Central, and also became immersed in dance while taking classes at the Minnesota Dance Theatre. Prince suffered from epileptic seizures as a child and was teased in school, which caused him to compensate by being flashy and loud.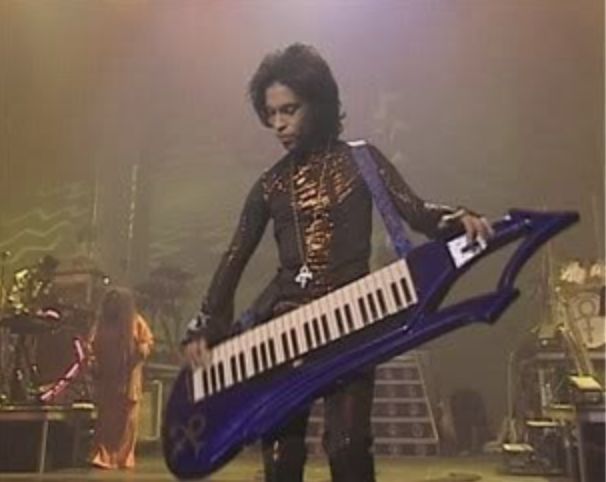 In 1978, Prince was signed to Warner Bros. Records. His prolific career began with the release of four albums in the late 1970s and early 1980s. However, it was his 1982 album, 1999, that propelled him into international success with funky pop hits like "1999," and "Little Red Corvette." 1984 was a pivotal year for Prince with the release of his classic album Purple Rain, and a feature film with the same name. The wildly popular film and soundtrack contains enduring hits such as "When Doves Cry," and "Let's Go Crazy." Purple Rain solidified his fame and signature "look," which was purple flowy attire and curly hair. Prince continued to produce albums and experience peak fame throughout the 1980s and 1990s.                                                                        
Prince was also an inventor. As a trained dancer and ostentatious performer, Prince's concerts were high energy and required constant movement. Prince designed a custom keytar - a keyboard for guitar- that he nicknamed "Purpleaxxe." The "Purpleaxxe" allows a player to move around the stage while playing as opposed to sitting, crouched over a traditional keyboard. In 1992 he filed for a patent for his design. Prince's keyboardist, Tommy Barbarella, used the purple keyboard throughout the 1990s during his performances. Prince received design patent number 349127 for the keyboard invention in 1994.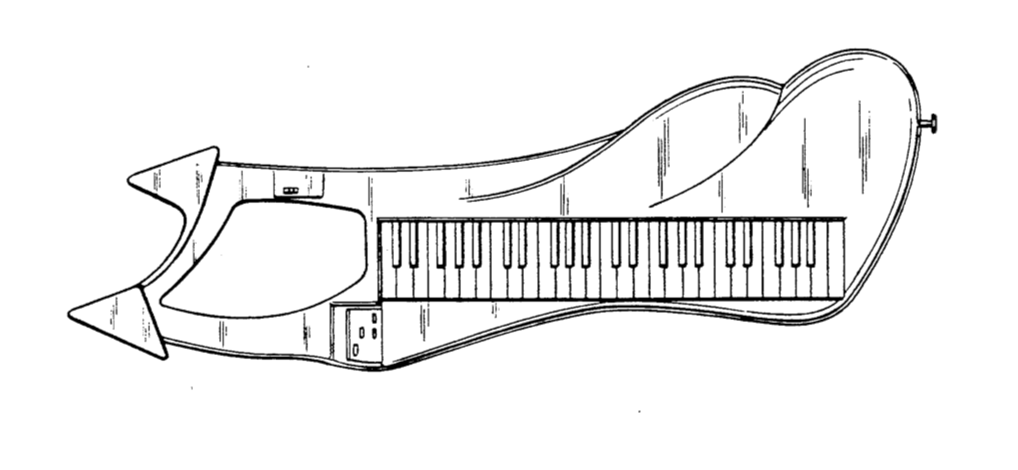 Prince also collaborated with and wrote hit songs for other successful artists such as The Bangle's "Manic Monday," and Sinead O'Connor's "Nothing Compares 2 U." He worked with artists like Madonna and Janelle Monae on specific tracks. Prince was notoriously secretive about his personal life and spent most of his private life at his Paisley Park compound in Minneapolis.  
Prince died on April 21, 2016 at the age of 57 from an accidental drug overdose. In his final years he had become dependent on painkillers prescribed after painful hip surgery. Prince clearly left an indelible mark on the world of music, profoundly influencing current artists such as Frank Ocean, Beyonce, Justin Timberlake, Bruno Mars, and Alicia Keys.