John Dunlop
Pneumatic Tires
Transportation
Over a century ago, people were accustomed to riding bicycles with wooden wheels, often with steel rims, fashioned similarly to wagon wheels. Scottish veterinarian John Boyd Dunlop introduced a product that would change this forever. In 1888, he invented the world's first pneumatic, or inflatable, rubber tire for bicycles. His invention would later be used for car tires.  
Born on February 5, 1840, in Ayrshire, Scotland, Dunlop earned a degree in veterinary medicine at Edinburgh Veterinary College at the age of 19. He practiced in Edinburgh until 1867 when he moved to Belfast, Northern Ireland, an area with particularly rough roads. Dunlop married Margaret Stevenson in 1871 and they had two children together. Dunlop noted that his son's tricycle riding was extremely uncomfortable for the boy. He began working on ways to improve the experience by fashioning cushioned coverings for the wheels. He used inflated canvas tubes made of pieces of an old garden hose and bonded them together with liquid rubber, fitting them to the circumference of each wheel. He patented the idea in 1888. 
About 40 years earlier, in 1845, a fellow Scotsman by the name of Robert William Thomson had patented a similar idea for a vulcanized rubber tire (after Charles Goodyear patented the vulcanization process in 1839). At that time, the product was much too expensive to manufacture and was not in very high demand. Dunlop, however, was able to market his product effectively and benefit from a burgeoning transportation industry. In 1889, he secured a partnership with a local firm by the name of W. Edlin and Co. to manufacture his tires for bicycles. After a local cyclist won a race while using the tires, the product gained a great deal of attention.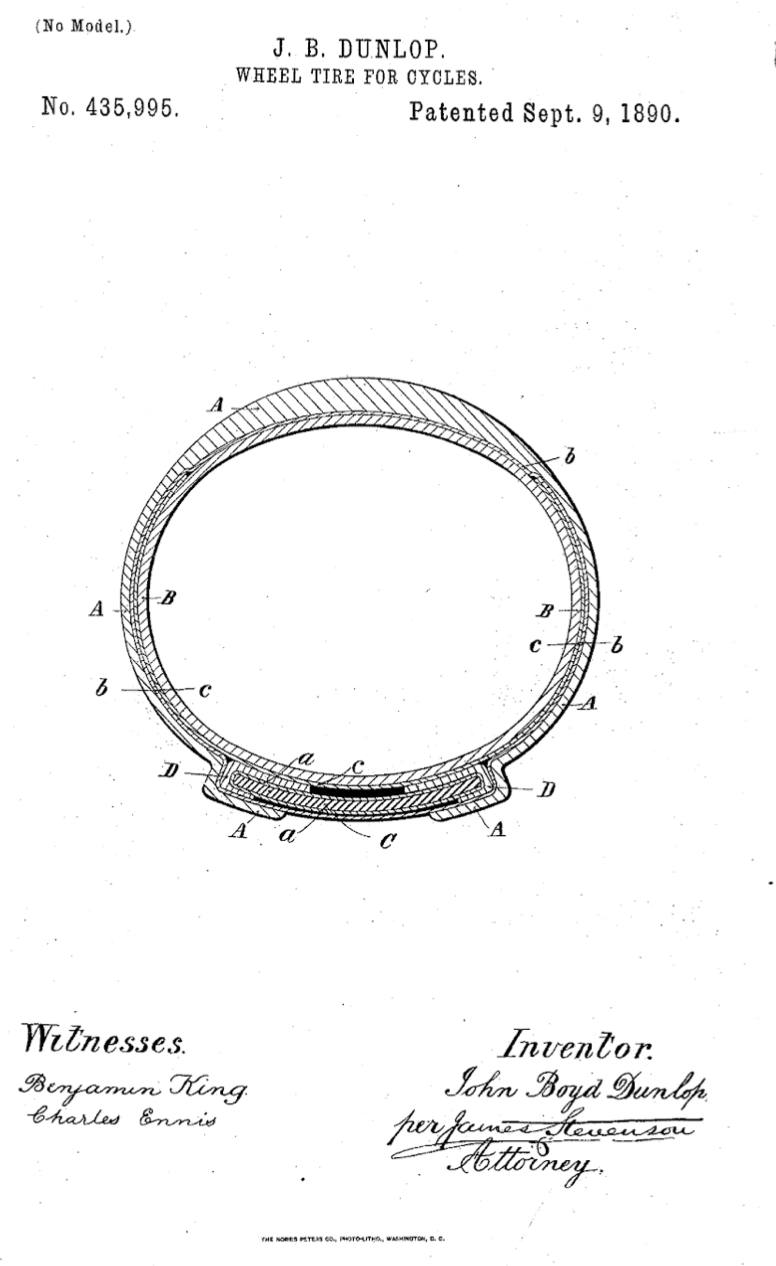 In 1890, the paper manufacturer W.H. Du Cros offered to buy Dunlop's patents. Dunlop, who secured a U.S. patent for his tires that year as well, sold them to him and helped him establish the Dunlop Rubber Company. Within just a year or two, Dunlop tires became the standard for bicycles. Shortly thereafter, the world saw its first automobile. Dunlop Rubber began producing a thicker tire to be used in cars. 
Dunlop sold his interest in the company seven years after its founding and retired to Dublin. He died on October 23, 1921 at the age of 81 at his home. Meanwhile, Dunlop Rubber grew extremely quickly, adding plants around Europe and adding to its product line. By the mid-1920s the firm was producing not only tires and tubes, but also raincoats, golf and tennis balls, and foam rubber. During World War II, the company further expanded by producing rubber dinghies, bulletproof tires, trench coats, flight suits, and a barrage of other products. 
In 1999, Dunlop Rubber became a subsidiary of the Goodyear Tire and Rubber Company. In 2005, Dunlop was posthumously inducted into the Automotive Hall of Fame and was inducted into the Inventors Hall of Fame in 2006.