Helen Blanchard
Sewing Machine Improvements
Consumer Devices
Helen Augusta Blanchard was ahead of her time in the late nineteenth century, a time when few women had the opportunity to work and pursue their dreams outside of the home. She was inventive and resourceful in the face of family financial trouble and helped revolutionize the sewing industry. Her 28 patents saved money and time in industrial factories.
Helen Blanchard was born on October 25, 1840 in Portland, Maine to wealthy merchant Nathaniel Blanchard. One of six children, Blanchard demonstrated inventive thinking at a young age. Little is known of Blanchard's upbringing, but it is unlikely she received technical training or advanced education.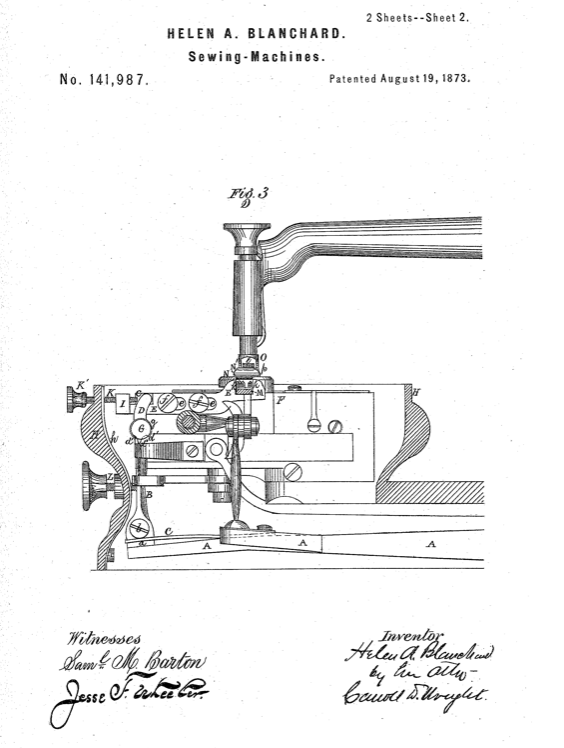 In 1866, Blanchard's family lost their home and savings due to a widespread business panic. Her father passed away and her family was left in financial despair. Helen Blanchard rose to the occasion and began an ambitious career as an inventor in the emerging mechanized sewing industry. Blanchard is best known for her 1873 invention of the zig-zig stitch sewing machine, which seals the edges of a seam and makes clothing sturdier. Throughout her adult life she continued to work on improvements to sewing needles and machines and earned 22 patents in the field. She also invented devices tangentially related to the sewing industry such as a pencil sharpener and surgical needles.  
In 1881, Blanchard created the Blanchard Over-Seam Company of Philadelphia. Her company's success earned her enough money to buy back her family's home and sealed her status as one of history's most prominent female inventors. She was inducted into the National Inventors Hall of Fame in 2006.  Blanchard recognized that her inventions of machinery displaced workers who were no longer needed. She devoted the rest of her life to philanthropic work to help these women.