Eddie Van Halen
Guitar Support System
Consumer Devices
Eddie Van Halen was the co-founder of the popular American rock band Van Halen and is considered one of the greatest guitar players in rock history. He is known for his two-handed fret-board tapping technique on the guitar, which gave his heavy metal rock group a unique sound. In order to play with two hands free while standing up, Van Halen invented an adjustable support system for the guitar or any stringed instrument.  
Edward Lodewijk Van Halen was born in Amsterdam, Netherlands on January 26, 1955.  Eddie was the second son born to Jan Van Halen, a jazz and classical musician, and Eugenia Van Halen, a woman of Indonesian descent. The family moved to Pasadena, California in 1962 when Eddie was seven. Inspired by rock bands like the Dave Clark Five, Eddie took up playing the guitar while his older brother Alex played the drums. Together they formed a series of bands in the early 1970s, and played the local circuit. However, they didn't receive any serious recognition until they connected with David Lee Roth, the son of a wealthy doctor. He was able to help the band afford better equipment. With the addition of Roth on lead vocals, and Michael Anthony on bass guitar, the band changed its name to Van Halen in 1974. Within a few years, the band became immensely popular on the Los Angeles music scene.  
Van Halen received a big break in 1977 when they were signed to Warner Bros. with a record contract. Their debut album, Van Halen, was released in 1978 and reached number 19 on the Billboard 200. In the subsequent years, Van Halen experienced tremendous success with sold-out arena tours and countless hits such as "Panama," "Dance the Night Away," and "Dreams." Their album 1984 went Platinum five times and their single "Jump" awarded them a Grammy nomination. All of this success came in spite of the lead singer, David Lee Roth, being replaced by Sammy Hagar in 1985. The band has sold more than 80 million records worldwide and was inducted into the Rock and Roll Hall of Fame in 2007.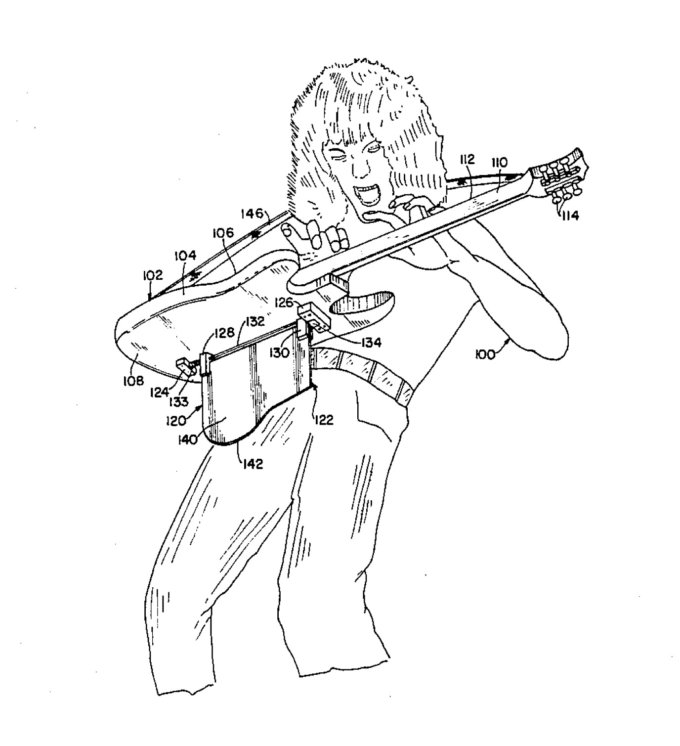 Although Eddie Van Halen is remembered as a guitar virtuoso, he is also an inventor and holder of three U.S. patents. Van Halen's inventive drive was inspired by watching his father, Jan, invent ways to get around his physical setbacks. Jan's tinkering included building a dental bridge from Teflon so he could still play the clarinet after starting to lose his teeth. Eddie learned to manipulate his guitars in order to get the sound he wanted.  
Patent number 4656917 was granted to Eddie Van Halen in 1987 for a flip-out support device that attaches to the back of the electric guitar or other stringed instrument. This contraption allows the musician to use a tapping technique by playing the guitar in a manner similar to the piano with the face of the guitar facing upward instead of forward. The device gave Van Halen the freedom to create new sounds and techniques that catapulted his band's success. Eddie Van Halen also holds patent number 388117 for a guitar peghead, a tool that's designed to help an instrument's strings hold tension.
Eddie Van Halen married actress Valerie Bertinelli in 1981 and had a son, Wofgang, in 1990. The couple divorced in 2006 and he got remarried to Janie Liszewski in 2009.  Van Halen suffered through years of alcohol abuse and repeated bouts of cancer that originated on his tongue. Eddie Van Halen passed away on October 6, 2020 in Santa Monica, California after a long battle with cancer.