Alexander Miles
Automatic Elevator Door
Transportation
Alexander Miles was a successful Black inventor in the late 19th century, best known for inventing elevator doors that could automatically open and close. His invention made riding an elevator much safer, with automatic doors still being a standard feature on modern-day elevators.   
Alexander Miles was born on May 18, 1838 in Circleville, Ohio to Michael and Mary Miles. Sometime in his early adulthood, he moved to Waukesha, Wisconsin where he worked as a barber throughout the 1860s. In 1870, while living in Winona, Minnesota, he met his future wife, Candace J. Dunlap from New York City. After the birth of their daughter, Grace, the family moved again to Duluth, Minnesota.   
Miles experienced great success as a barber in Duluth, opening a barbershop in the four-story St. Louis Hotel. He even used his savings to purchase a real estate office. His business achievements earned him a spot as the first Black member of the Duluth Chamber of Commerce. In 1884, Miles built a three-story brownstone building in an area that became known as the "Miles Block."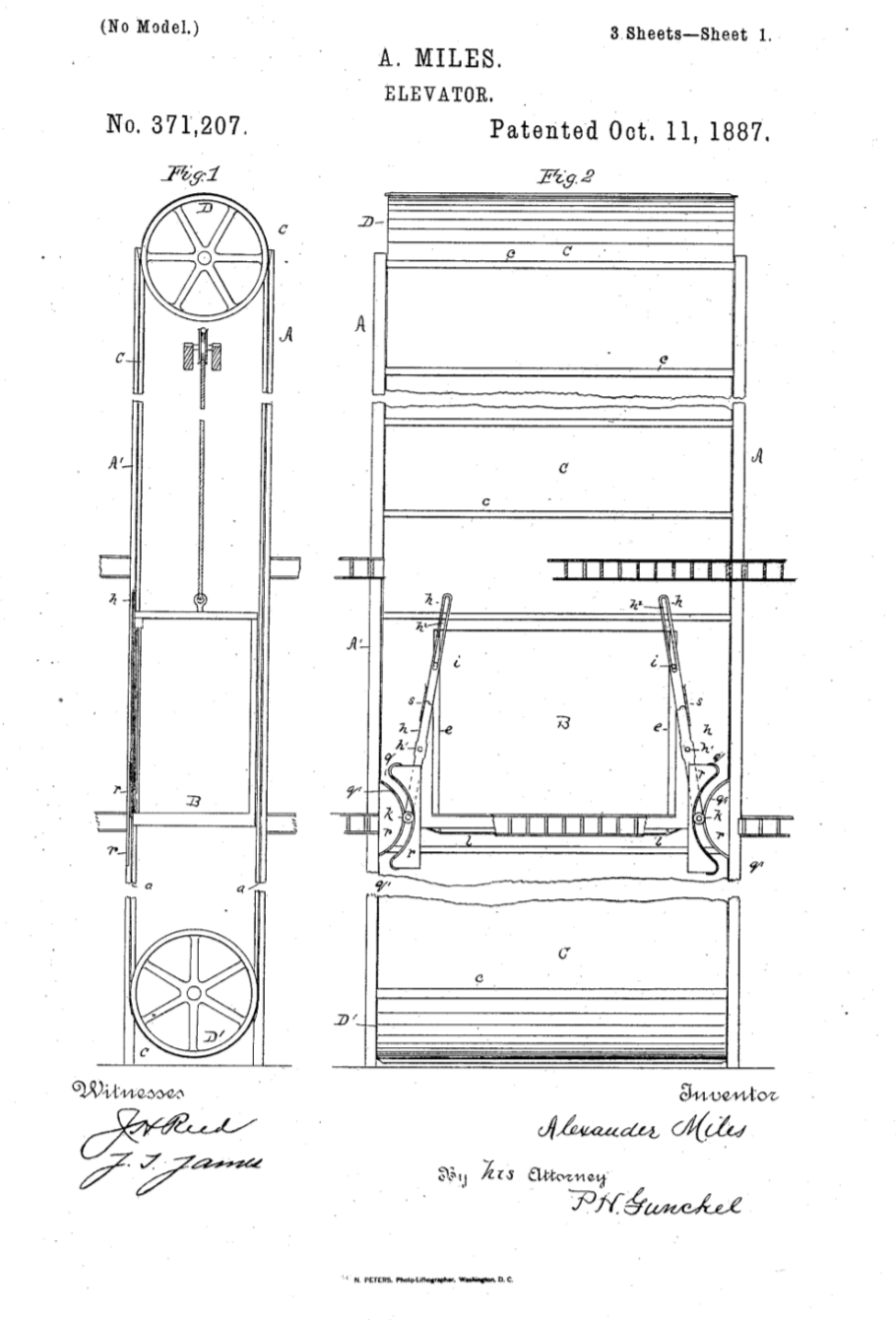 During elevator rides in his buildings, Miles witnessed the risks associated with an elevator shaft door accidentally left open. There were many examples of people accidentally falling to their death through the shaft because the elevator doors at the time had to be manually operated. Miles was determined to solve this problem. He attached a flexible belt to the elevator cage, which touched drums positioned along the elevator shaft, directly above and below the floors. His invention allowed elevator shaft doors to operate at the correct times. The elevator doors were automated through a series of levers and rollers. Alexander Miles was granted a patent for his invention on October 11, 1887 (U.S. Patent 371,207). 
Miles and his family moved to Chicago, Illinois in 1899, where he started The United Brotherhood, a life insurance company for Black customers who could not receive coverage from White-owned firms. Eventually, Miles relocated again, this time to Seattle, Washington. Before his death on May 7, 1918, Miles was considered the wealthiest Black person in the Pacific Northwest area, largely due to income from his invention. Miles was inducted into the National Inventors Hall of Fame in 2007.