Creative Problem Solving and Inventing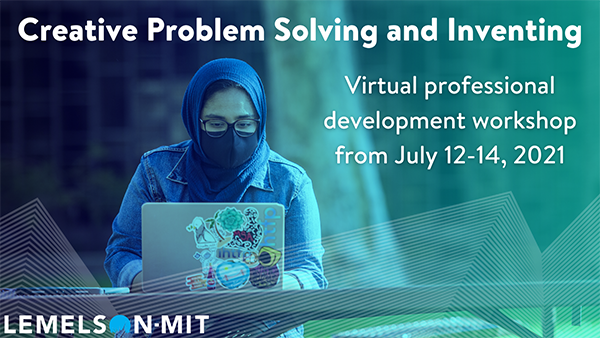 -
1:00 p.m. - 5:00 p.m. ET
Online Event
$600.00
Help Students Think and Work as Inventors
Be a part of the inclusive invention education movement! 
Join our three-day, virtual professional development workshop to learn how invention education helps enhance the 21st century skills students need to navigate the future. 
Hear from expert speakers, educators, and colleagues about activities and techniques that foster inclusion by helping underrepresented students learn ways inventors find and solve problems that matter, develop confidence in their ability to engage in STEM, and pursue STEM college and career pathways. Transform your approach to teaching through our evidence-based model, backed by published research and case studies. 
See below for everything you need to know about this workshop, or for questions contact info-lemelson@mit.edu.
Who Should Attend?
•    Educators of all grade levels, after-school professionals, administrators, community college faculty, or other educators who want to enrich students' educational experiences by helping students invent solutions to real-world problems!

•    Invention is interdisciplinary, so educators from all disciplines can benefit
•    You do not need to have prior knowledge of invention education to attend, though even those advanced in the field are welcome as curriculum will cater to each experience level
•    Educators from the same school district are encouraged to attend together to build the pathway for inventing in your district
Why You Should Attend
? To learn about invention education, especially as it relates to computer science and computational thinking, and how it can strengthen STEM, entrepreneurship, and enrichment programming

? To explore problem-finding and solving approaches common to inventors, that take into consideration students' home cultures and contributions. (This approach addresses federal guidelines for offering STEM programs that are transdisciplinary, build computational literacy, and engage with local communities)

? To network and make connections with likeminded individuals, STEM professionals at the forefront of innovation, education and technology, and others in the education field

? To hear from faculty and administrators about the new Invention and Inclusive Innovation program for community colleges that is currently being prototyped with multiple colleges in California

? To engage in hands-on activities that will help students, especially those from diverse backgrounds, become creative problem solvers

? To collaborate with peers from all over the country in sessions for K-12 grades and community colleges

? To become an active, ongoing collaborator in the invention education movement that is a critical component to the future success of all students
Agenda
The agenda for the three-day workshop is full of exciting and engaging sessions. There will be a combination of synchronous group activities online and asynchronous activities to be completed individually, offline. See below for an overview of the agenda or click "here" to download a complete guide to each day's programming. 
Day 1
? Dive into the emerging field of invention education that is sweeping K-12 and community colleges. We will answer these three questions:

1️⃣ What is invention education?
2️⃣ How do you recognize invention and foster innovation?
3️⃣ Why is it important to build an invention pathway and ecosystem?

? Take a grand tour of invention education, exploring examples at every age and stage of development from kindergarten to college

? Glean ideas for invention projects, programs and activities, no matter whether you're a novice or advanced invention educator

? Attend a panel discussion on advancing new policies and practices for invention education

Day 2
? Explore the intersections of invention, computer science, and computational thinking

? See how invention education can be used to engage diverse audiences in computer science

? Listen to a teacher panel discuss how students used technology to invent for Invention Conventions

? Find out how literacy plays a role in problem finding and solving

? Attend a Micro:Bit workshop

? Learn about LMIT's Inventing with IoT Capstone Course
Day 3
? Expand your knowledge of how to bring about greater diversity, equity and inclusion in invention and innovation

? Hear from USPTO staff and learn about the IDEA Act recently voted out of the Senate Judiciary Committee

? Sit in on breakout sessions that address:

1️⃣ How to bring culturally relevant information to your teaching to engage students from multicultural backgrounds
2️⃣ Reflections on year 1 pilot of Invention Adventures – an after-school program
3️⃣ Approaches to bringing students into inventing through research projects
4️⃣ Using students as historians to document invention experiences
5️⃣ Community colleges as innovation hubs for engaging diverse audiences
6️⃣ How to protect students' IP
Facilitators & Speakers
Workshop sessions will be taught and facilitated by Lemelson-MIT Program staff, Lemelson-MIT former InvenTeam educators who have experience helping students learn to invent, and guest speakers from the innovation and education sectors. Click "here" to download a full list of over 60 speakers, or see examples of keynote speakers below.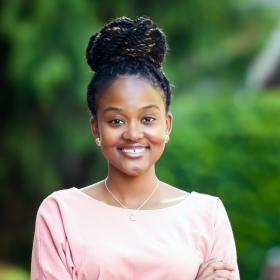 Arlyne Simon, PhD
Biomedical Engineer, Author, Inventor, and Entrepreneur
Honored as a trailblazing female innovator by the United States Patent and Trademark Office, Arlyne Simon is on a mission to inspire kid inventors everywhere. She is a biomedical engineer, patented inventor, author of the "Abby Invents" picture book series and founder of Timouns – a multicultural children's products company. As an author, Arlyne crafts stories about a girl inventor who creates things kids wish existed like unbreakable crayons and foldibots! Arlyne is also staying busy as an AAAS IF/THEN® Ambassador, advocating for girls in STEM.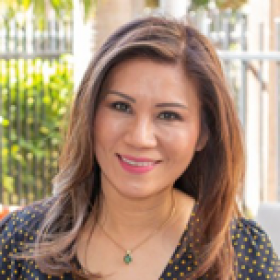 Deoksoon Kim, PhD
Associate Professor, Teaching, Curriculum, and Society, Boston College
Deoksoon Kim is an associate professor in the Lynch School of Education and Human Development at Boston College. Her research has focused on understanding the needs of immigrant students so that educators can more effectively help them learn English and succeed in school. She has worked on second language reading and literacy and on how to incorporate instructional technology in order to facilitate language learning and teacher education. Recently she has studied how digital storytelling can support English language learners and teachers. She is also working on using invention education to support English language learners in their development of scientific literacy.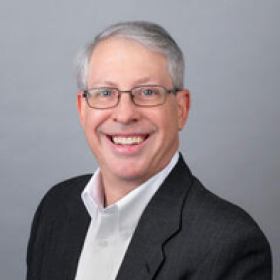 George Westerman, PhD
Principal Research Scientist, MIT's J-WEL Workforce Learning, and Senior Lecturer, MIT Sloan School of Management
George Westerman works at the dynamic intersection of executive leadership and technology strategy. He has spent over 17 years with MIT Sloan School of Management where he is co-chair of the MIT Sloan CIO Leadership Awards. He has written three award-winning books, including "Leading Digital: Turning Technology Into Business Transformation." As a pioneering researcher on digital transformation, George has published papers in Harvard Business Review, Sloan Management Review, and other top journals. He is a member of the Digital Strategy Roundtable for the U.S. Library of Congress and earned his PhD from Harvard Business School. He focuses on helping employers, educators, and others to rethink the process of workforce learning.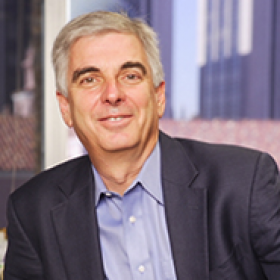 Ken Kay
Retired CEO, EdLeader21
Ken spent nearly two decades promoting a new model of K-12 education. Most recently he served as CEO of EdLeader21, a professional learning community of more than 200 school districts around the U.S. Prior to this, Ken was the founding president of Partnership for 21st Century Skills, executive director of the CEO Forum on Education and Technology, and founder of a landmark coalition of U.S. universities & high-tech companies focused on research and development issues. Along with Valerie Greenhill, he has authored "The Leader's Guide to 21st Century Education: 7 Steps for Schools and Districts." Ken has also written the foreword to the book, "21st Century Skills: Rethinking How Students Learn." Currently, he serves on the board of the Buck Institute for Education.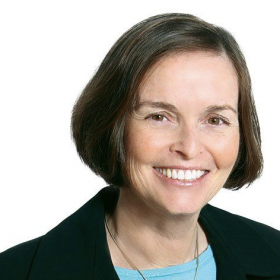 Suzie Boss
Writer & Educational Consultant
Suzie Boss is a writer and educational consultant from Portland, Oregon, working to harness the power of teaching, learning, and storytelling to improve lives and transform communities. Recent projects have taken her across the United States and around the globe to support schools that are shifting away from traditional instruction and engaging students in real-world problem solving. She has had the privilege of collaborating with educators everywhere from India, to Europe, to South America, and is a PBLWorks National Faculty emeritus, and long-time contributor to Edutopia.
Professional Learning Grade Band
| Grade Band | Professional Learning Description |
| --- | --- |
| PK-3 and 3-5 | The early years are foundational to students' development. Presenters will share playful approaches to developing students' ability to understand others' needs, communications skills, computational thinking and computer science skills and ways of designing and building – all through projects that are age appropriate and designed for youth from diverse backgrounds. |
| 6-10 | The middle grades are ideal times to continue to develop a range of capabilities needed to invent such as hands on skills and design thinking emphasized in LMIT's free JV InvenTeams curriculum. Computational thinking and computer science add-ons support this essential area for development. These years are also the time to help students learn how to think about solutions that are both useful and unique. |
| 9-14 | High school and community college students are capable of finding problems to solve in their local communities and building useful and unique prototypes of those solutions. Prior learning opportunities can be built upon to support the design and development of technological solutions that are not obvious to one skilled in the art – i.e. patentable! Learn how 12 of the Lemelson-MIT  grant-funded InvenTeams have secured patents for their work, and find out about LMIT's exciting, new work with community colleges in CA. |
Cost
Registration for the three-day workshop is $600 per participant and includes workshop materials. Two forms of payment are accepted (credit card and check). 
Credit card or checks are accepted (invoices can be provided). Please include attendee names on all checks. If paying by credit card, full payment is due upon registration. If paying by check, payment must be received within 30 days of registration or receipt of invoice. Checks should be made payable to the Lemelson-MIT Program.
For any payment related questions, please contact Alma Lundberg at almah@mit.edu.