Nate Ball
Nathan "Nate" Ball's passion for invention was coursing through his veins long before he could define the word. He recalls digging up the family garden at two years old to build, wreck and rebuild mud dams and underground forts. In fourth grade he created a bottle-rocket launcher that shot two-liter bottles of water 100 feet skyward. This was followed by a hovercraft powered by a vacuum cleaner motor that he constructed in sixth grade.
By the time Ball was in the eighth grade, he was attempting to build a Tesla coil in his parent's garage, making capacitors out of glass bottles and aluminum foil. "I saw Tesla coils on the Internet shooting lightening," said Ball. "It was the coolest thing I'd ever seen, and I knew I had to build one."
Amazingly, Ball never touched a machine tool until he reached college. He credits limited resources during his formative years to his ability to think unconventionally about problems and engineer efficient solutions.
Ball founded Atlas Devices, LLC with three other mechanical engineering students at MIT to develop and commercialize the ATLAS Powered Rope Ascender, which uses a rope-handling mechanism conceived by Ball. This portable device can raise more than 250 pounds at 10 feet per second, giving rescuers, emergency personnel and soldiers faster and more controllable climbing capabilities. The U.S. Army awarded funding for their invention.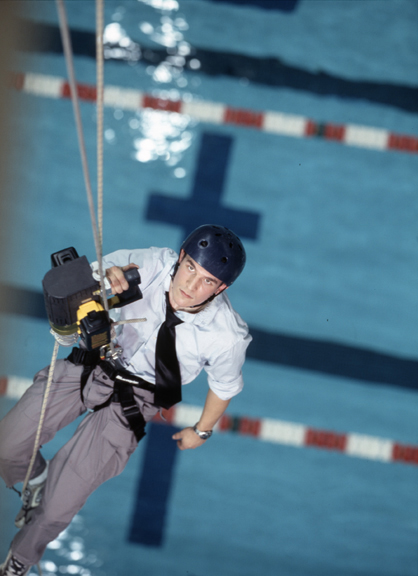 Ball is a co-applicant of six patents and the co-author of numerous peer-reviewed articles. His awards and achievements include the SAIC Award in the 2005 Soldier Design Competition, sponsored by the Institute for Soldier Nanotechnologies at MIT, for his team's ATLAS Powered Rope Ascender. He also won the Luis DeFlorez Award for outstanding ingenuity and creativity from MIT's Department of Mechanical Engineering in 2005 for an electric scooter.
Inspired by his mother, who is a music teacher, and father, who is an engineer, Ball also enjoys sharing his passion for science and invention with others. In February 2007, Ball was featured as a mentor to eight budding engineers as co-host of PBS's new series "Design Squad." The show aims to excite middle-school students about science and engineering by combining elements of reality TV with fun and educational engineering challenges. Additionally, Ball also mentored fifth grade boys in science and engineering at Fletcher Maynard Academy in Cambridge, Mass.
Ball is a native of Newport, Oregon where he was raised with his two sisters. He was a two-time NCAA All-American pole-vaulter and MIT's indoor/outdoor record holder in the sport (16' 6" indoor, 16' 8 ¾" outdoor). 
Ball is also trained in classical piano. For fun, he enjoys playing jazz keyboard and beat-boxing.
Ball received his MS and SB in mechanical engineering at the Massachusetts Institute of Technology. For his master's thesis at MIT's BioInstrumentation Laboratory, Ball was challenged by advisors, Hatsopoulos Professor of Mechanical Engineering Ian W. Hunter and Research Scientist Andrew Taberner, to use the lab's novel Lorentz-force actuator to create a dual-action, rapid-fire delivery technology that increased drug volume delivery, which he created within two months.
Related Videos