In Remembrance of Dorothy Lemelson of The Lemelson Foundation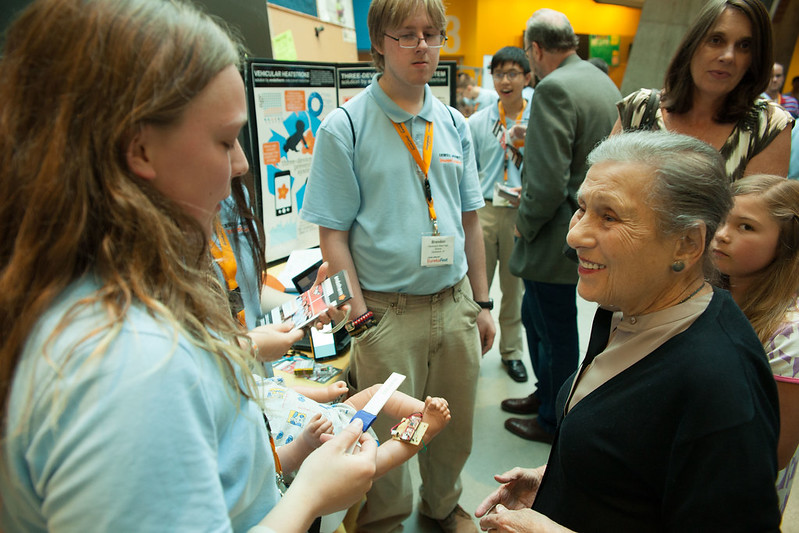 Dorothy Lemelson, co-founder of The Lemelson Foundation, passes away at 94.
Last week we learned that Dorothy Lemelson, co-founder of The Lemelson Foundation, had passed away. She died peacefully on March 10, 2021 surrounded by family. Many of us affectionately referred to her as Dolly. A large picture of Dolly and her husband Jerry, hanging in the Lemelson-MIT Program office, greets us as we enter the room. Dolly's warm smile and clear enjoyment of her interaction with our young inventors offer a glimpse into her life's work which, in part, has been dedicated to helping all young people get on the pathway to invention. The phrase "all in" comes to mind when we reflect on our interactions with Dolly and other members of the family.
We will celebrate Dolly Lemelson's many accomplishments and the important role she has played in the invention education movement at a later date in coordination with the Lemelson Foundation. For now, please join us in a moment of silence, a prayer, or the lighting of a candle to honor this amazing woman.
Born Dorothy Ginsberg on May 11, 1926, in Perth Amboy, New Jersey, Dolly was the daughter of Latvian immigrants who taught her the importance of education and hard work. After graduating from Parson's School of Design in New York in 1947, Dolly taught at the Newark School of Fine Art. She later started her own successful interior design business.
Dolly was a steadfast supporter of her husband Jerry Lemelson, an independent inventor who earned more than 600 U.S. patents during his lifetime. In 1992, Jerry and Dolly launched The Lemelson Foundation to improve lives through invention. In 1994, the couple founded the Lemelson-MIT Program (LMIT) at the Massachusetts Institute of Technology to foster a love of inventing in young people and to inspire all people to pursue creative lives and careers through invention. When Jerry passed away in 1997, Dolly continued to bring his ideals to fruition through grant funding to LMIT and by serving as President and Chair of the Board of Directors for The Lemelson Foundation until 2018.
Kindness was core to Dolly's character. She strived to give back to those in need and was especially passionate about helping young people recognize their ability to make the world a better place. She was the founder and President of the Dorothy Lemelson Foundation, which supports teachers and at-risk youth in Oregon and Nevada, two states where she lived.  A public school for at-risk students in Nevada and a residential facility for girls in transition from homelessness in Portland are named in her honor. 
Dolly was a source of inspiration for those who had the good fortune of getting to know her. We always knew we could count on her keen insights and wit. She will be remembered as a champion of education and invention, encouraging all people to harness the two to better the world in profound ways. We look forward to continuing our work in her memory.