LEMELSON-MIT PROGRAM AWARDS INVENTEAM® GRANTS TO HIGH SCHOOL TEAMS NATIONWIDE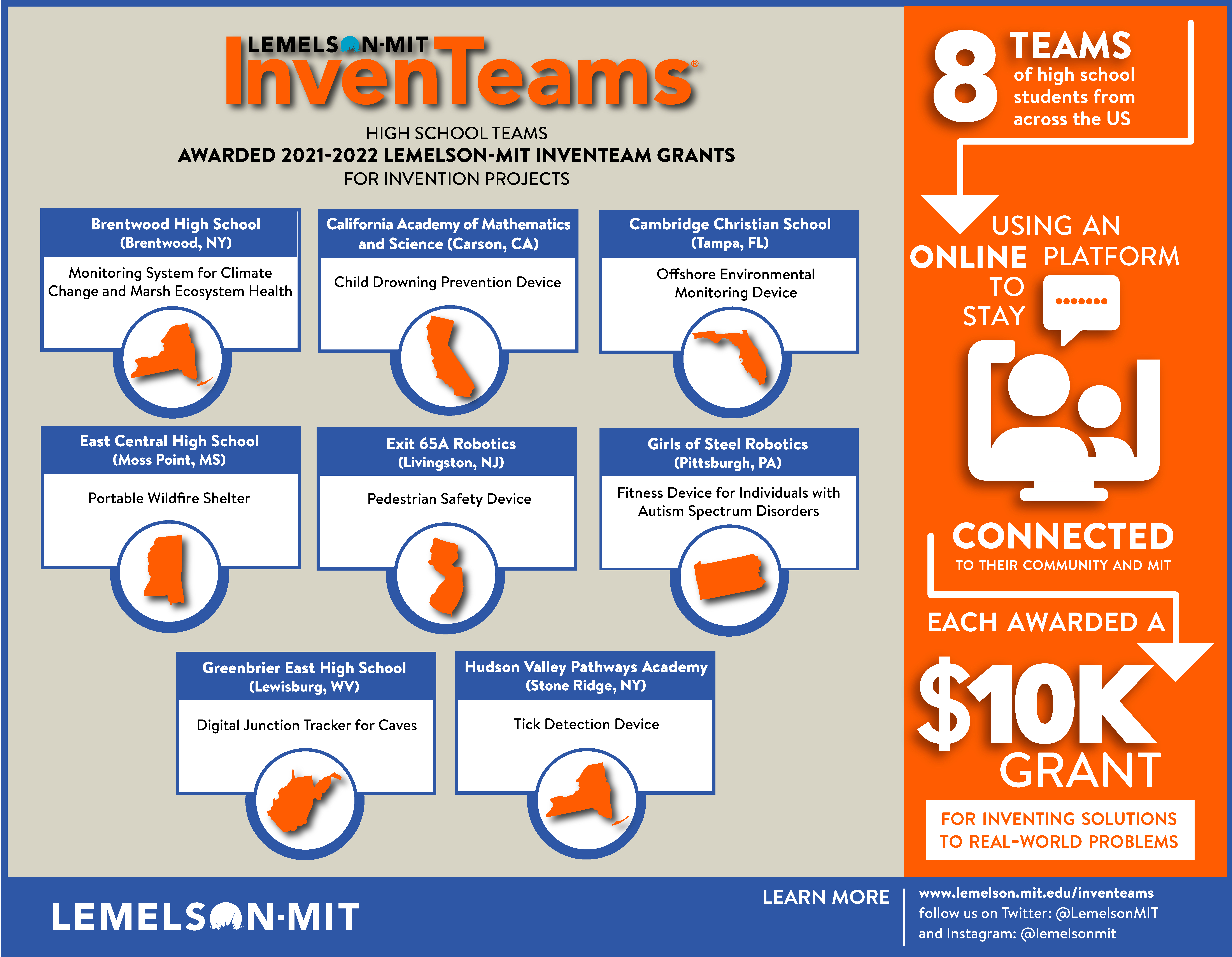 Eight High School Teams Awarded $10K Lemelson-MIT InvenTeam® Grants for Invention Projects
CAMBRIDGE, Mass. (Nov. 3, 2021) — Today the Lemelson-MIT Program announced the 2021-2022 InvenTeams, eight teams of high school students from across the country who each received $10,000 in grant funding to build a technological invention to solve a problem of their own choosing. The students' inventions were inspired by real-world problems existing in local or worldwide communities. 
Meet the 2021–2022 InvenTeams
The invention projects were selected by a respected panel consisting of university professors, inventors, entrepreneurs, industry professionals, and college students. Some panel members were former InvenTeam members now working in industry. This year features another all-girls team – furthering the program's commitment to increasing gender diversity alongside socioeconomic and regional diversity. This year's teams are: 
Brentwood High School (Brentwood, N.Y.): Monitoring System for Climate Change and Marsh Ecosystem Health
California Academy of Mathematics and Science (Carson, Calif.): Child Drowning Prevention Device
Cambridge Christian School (Tampa, Fla.): Offshore Environmental Monitoring Device
East Central High School (Moss Point, Miss.): Portable Wildfire Shelter
Exit 65A Robotics (Livingston, N.J.): Pedestrian Safety Device
Girls of Steel Robotics (Pittsburgh, Pa.): Fitness Device for Individuals with Autism Spectrum Disorders
Greenbrier East High School (Lewisburg, W.Va.): Digital Junction Tracker for Caves
Hudson Valley Pathways Academy (Stone Ridge, N.Y.): Tick Detection Device
The 2021–2022 InvenTeams are comprised of students, teachers and community mentors who pursue year-long invention projects involving creative thinking, problem-solving, and hands-on learning in science, technology, engineering, and mathematics (STEM). The InvenTeams' inventions will be showcased at a technical review within their home communities in February 2022, and then again as a final prototype at EurekaFest™ — an invention celebration in June 2022 held at MIT in Cambridge. 
"Approximately 3,000 students have taken part in the InvenTeam experience and 40% are girls, which is encouraging in a time when women represent only slightly above 10% of U.S. patent holders. This work supports students of all backgrounds in developing creative and inventive problem-solving skills that will be of benefit in their college and career endeavors, and in their personal lives." said Stephanie Couch, Executive Director of the Lemelson-MIT Program. 
ABOUT THE LEMELSON-MIT PROGRAM 
The Lemelson-MIT Program (LMIT) is a national leader in efforts to prepare the next generation of inventors and entrepreneurs. Our work focuses on the expansion of opportunities for people to learn ways inventors find and solve problems that matter to improve lives. Our commitment to diversity, equity and inclusion aims to remedy historic inequities among those who develop inventions, protect their intellectual property and commercialize their creations. 
Jerome H. Lemelson, one of U.S. history's most prolific inventors, and his wife Dorothy founded the Lemelson-MIT Program at the Massachusetts Institute of Technology in 1994. It is funded by The Lemelson Foundation and administered by the School of Engineering at MIT, an institution with a strong ongoing commitment to creating meaningful opportunities for K-14 STEM education.  For More Information, contact Leigh Estabrooks at leighe@mit.edu.