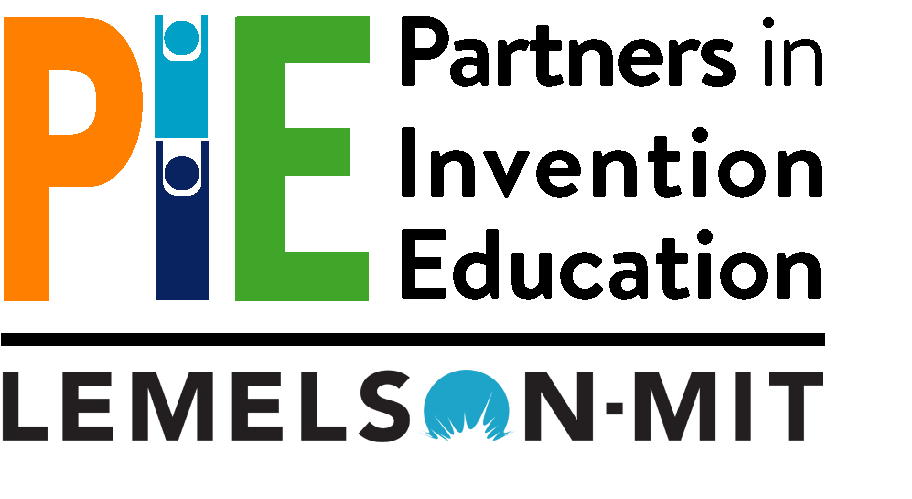 Invention Education- Educating for Real!
Real People — Real Problems — Real Solutions
Partners in Invention Education (PIE) is a professional learning community for collaborative efforts between the Lemelson-MIT Program (LMIT) staff, collaborators, and K-12 educators and administrators. 
PIE is for you if: 
You take a strengths-based approach to education, building on the cultural knowledge and other assets that students bring to their learning experience. 

You want to help students, especially those underserved and underrepresented in STEM, develop deep technical, problem-solving, teamwork, and collaboration skills necessary for success in the invention and innovation economy and which are sought after by employers. 
Modular and Flexible Programming
LMIT's teaching system can be customized to fit your students' education in ways that work best for them and you. Their invention education curriculum is effective during the school day, in after-school programs and summer camps. LMIT's staff can assist with professional development and curriculum design to make sure you meet the needs of your students, educators, community, and other stakeholders. 
Problem Finding, not just Problem Solving
Problem-solving skills are crucial for students. But LMIT's unique curriculum addresses the oft-overlooked step of teaching them how inventors identify problems and develop new and novel solutions with profound social impact. LMIT has developed a teaching system that begins at this critical stage. Our research has shown that our approach to invention education helps students—especially those underrepresented in STEM— develop confidence in their ability to engage in STEM. 
Dedication to Diversity in STEM
LMIT's teaching system empowers all students to see themselves as inventors and STEM-capable, regardless of their gender, race, ethnicity, or socioeconomic background. 
A Community of Educators
K-12 educational partners are supported in their work with learners through LMIT's summer professional development workshop and these working groups: 
Invention Adventures (grades PK-12) - Introduce students to inventing through playful activities, coaching and mentoring, leading to submissions to fairs, conventions or competitions.

Junior Varsity (JV) InvenTeams (grades 6-10) - Establish technical knowledge, mindsets, and hands-on skills to prepare students to develop prototypes of inventions.

High School Curriculum Resources (grades 9-12) - Easily adaptable resources in which students develop prototypes of inventions to solve problems of their own choosing. Includes guidance on implementing an invention and computer science focused capstone course that allows freedom from the rigidity of "teaching to the test" and meets the state of California's third year lab requirement for the University of California system, giving students the experience and credits needed for competitive college applications.